Audi e-tron quattro concept is the Next Tesla Model S Competitor

Audi e-tron quattro concept has been revealed at the Frankfurt Motor Show and it seems that it is the next competitor of Tesla Model S as well as of Porsche Mission E, which we have shown you a few days ago. Just like Mission E, Audi's electric concept has 500 km range on a single charge. However, it is little less powerful: it can produce only 503 hp in comparison to Porsche's 600 hp.
With its flow-enhanced design, this concept achieves a drag coefficient of 0.25. By the way, it is pretty obvious that this EV is Audi's official statement about the future of electric mobility. At first glance it seems that the e-tron quattro concept has got it all: it is sporty, efficient and suitable for everyday use. But let's see in details what it is all about.
Electric Concept
This car utilizes the power of three electric motors. The first one drives the front axle, while the other two - the rear axle. Their total output is 320 kW or 435 hp. As a matter of fact, the driver can mobilize up to 503 hp (370 kW) and over 800 Nm (590.0 lb-ft) of torque, but this happens only temporarily while boosting. Given this force, the concept study can perform like a sports car.
SEE ALSO: Audi e-tron quattro Concept Revealed with First Sketches. Debuts in Frankfurt
The acceleration time is also impressive, and especially when we talks about an EV. The 0-100 km/h (62.1 mph) sprint can be covered in 4.6 seconds. The top speed is electronically limited at 210 km/h (130.5 mph).
Integrated into the floor of the passenger's compartment is a large lithium-ion battery. The battery has a capacity of 95 kWh, which enables a range of more than 500 kilometers (310.7 mi). How about the charging? The Combined Charging System (CCS) comes in help when charging with DC or AC electrical current. And for a full charge (with DC) at a charging column with an output of 150 kW takes just 50 minutes.
There is even an alternative: the concept is equipped with Audi Wireless Charging technology for contactless induction charging, and there is also a large solar roof which provides electricity for the drive system battery on sunny days.
Aerodynamic Exterior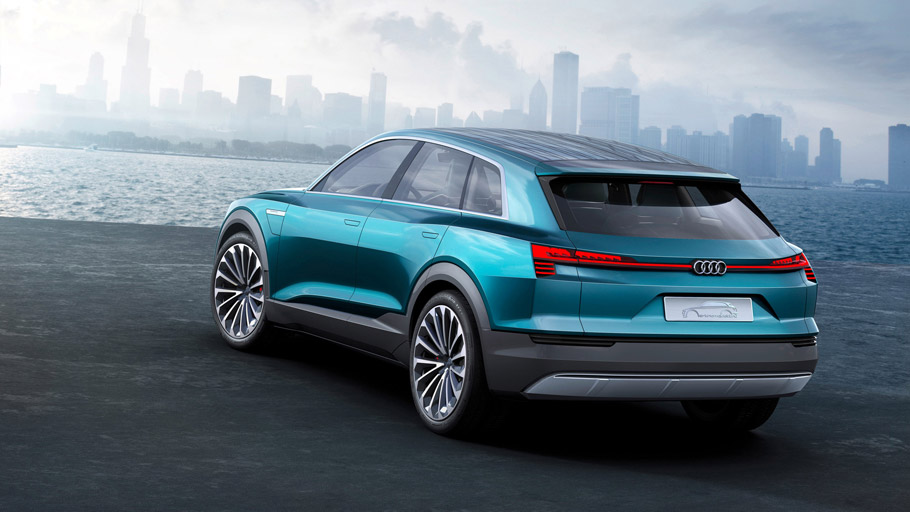 It is rather a true statement that it is a necessity for an electric vehicle to have aerodynamic exterior. Audi e-tron quattro concept is 4.88 meters (16.0 ft) long, 1.93 meters (6.3 ft) wide and just 1.54 meters (5.1 ft) high. Its forms are so fantastically managed ad designed that its drag coefficient measures just 0.25.
And this is one of the main reasons for the long range. And even the rearview mirrors have been removed for better aerodynamics. They have been replaced with cameras and it seems that this is one of the newest and most preferable technologies of the future of driving.
Other cool features in the exterior include the front headlights with Matrix laser technology. The bottom section houses five lighting elements, each of which combines an LED luminary with an extremely flat OLED element (organic light-emitting diode).  As a mater of fact, this Matrix OLED technology is currently under development for future use in production use. The rear lights also have two sections with nine red OLED units for the tail light function and three more below.
The Interior
The cabin is spacious and comfortable, and suitable for four persons. All displays inside use OLED technology contributing for the further development of the new Audi virtual cockpit. Below the fully-digital instrument cluster are two touch displays with black glass and a subtle aluminum frame. The left display is controlled by the driver when he or she wants to change the lights and the systems for piloted driving. The right display is for media and navigation management.
There are also two more OLED displays for the drive system status, climate control and other information functions. At the rear, the passengers sit on comfortable individual seats. They can connect via LTE module to the Internet.
We are definitely excited to see if and when this concept will eventually come in production. Would it be a true rival of the Model S? Your thoughts?
Source: Audi