Audi R8 e-Tron Sets World Record on the Nordschleife
After an overall victory at the 2012 Le Mans series, there comes another triumph for Audi. The R8 e-tron has set a new world record on the Nürburgring track of 8:09.099 minutes. Yes, it's not an all-time record but a "production vehicle with an electric drive system" kind of record . The Gumpert Apollo Sport, which by the way has an Audi V8 engine, has been around the Nürburgring for less then 7:12.00 minutes. Still, a giant leap for the all-electric car world and for the e-tron.
There are two electric motors underneath the Audi R8 e-tron that work together to produce 280 kW and 820 Nm of torque. At the same time, despite having a bulky 49 KWh T-sized battery pack bellow the cabin, the weight is down to 1,780 kg which is okay for a normal sport's car and astonishing for an electric one. That's mainly the result of an aluminum body with traces of CFRP parts here and there. Where we are getting at is that the R8 e-tron is capable of speeds up to 200 km/h (for the Nürburgring they had to ditch the limiter and went for the 250 km/h benchmark). From a stand still, the e-tron will reach 100 km/h in just 4.6 seconds – a time which will bring some of the best petrol equivalents to tears.
Best part of it all? It's all natural and almost ready for production:
"Of course, the R8 e-tron is a production car, not a racing car with the assistance of aerodynamics. But with its low center of gravity and rear biased weight distribution, it brings with it a lot of sporty qualities. The torque with which the electric motors propel the car uphill beats everything that I know – even if they make hardly any noise in the process, which at the start was really a completely new experience for me. In places where I really need traction, the torque vectoring – the displacement of the torque between the powered wheels – really helps me." Comments 32-year-old Markus Winkelhock – the e-tron driver and current record holder.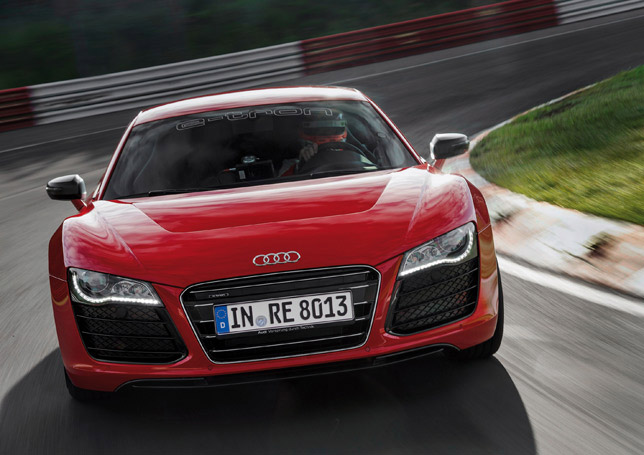 Audi R8 e-tron
Source: Audi