Audi R8 Family Gets Updated with Innovative Technologies

Audi is famous for is many supercars, but one thing that makes the company truly stand out is that the race cars and production cars have a lot in common. At least in many technical areas, like their controls and displays for instance. The best example however is the similarity between the Audi R18 e-tron quattro race car prototype and the Audi R8 sports car. The first one has actually competed at the 24 hours of Le Mans this weekend, performing great and achieving third place.
Going on sale this summer, the high-performance sports car, is part of a sporty family comprising of the GT race car, the Audi R8 LMS, and the battery-electric powered Audi R8 e-tron. Now, the vehicle is in its latest evolutionary form and this means it can offer even more power, speed and endurance.
SEE ALSO: Forget the Teasers! 2016 Audi R8 is Finally Here!
As you can see from the picture below, the designs of the steering wheels of both cars as well as their digital displays show significant similarities. It is obvious that the high-performance Audi R8 is extremely close to that of a race car and its controls and displays are showing this, too.
Similarities: Steering wheels & Displays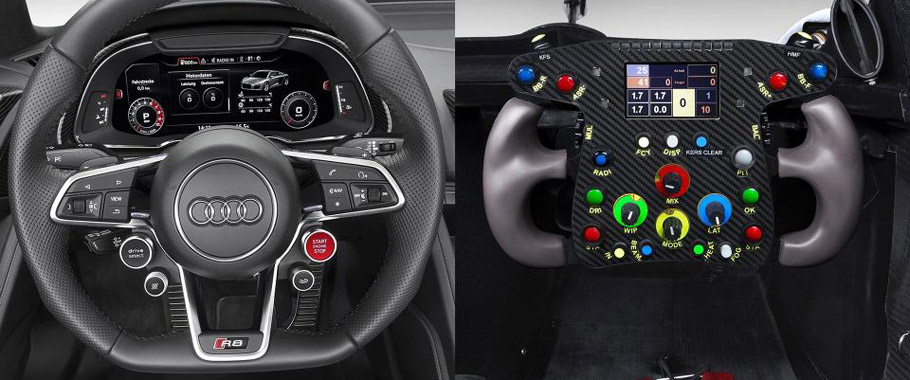 Audi R8 V10 plus is now getting a steering wheel which comprises of 20 controls. Among them there are four new satellite buttons. On the other hand, the LMP1 race car and the Audi R18 e-tron Quattro have 33 buttons on their wheels. In addition, in both cars, the driver shifts gears from the steering wheel.
There are also color indicators, again similar in both, which notify the driver when the engine is nearing its rpm limit. What is more, key driving dynamic parameters can adjusted or set via new control buttons on the steering wheel in both cars. There is also information for the tire pressure and lap times, which appears on a digital display, both in the R8 LMS and R8.
Audi R8 e-tron with 462 HP
Audi R8 e-tron is famous for being the first all-electric car produced by the company. It will produce 462 hp (340 kW) of power, which will enable it to sprint from 0 to 100 km/h (62.1 mph) in 3.9 seconds. In addition, it will be able of covering a maximum driving range of 450 kilometers (279.6 mi). The e-tron is actually a mobile laboratory for Audi and its aims of developing new electrical concepts and components.
Source: Audi