Audi R8 GRAND-AM Returns At Watkins Glen Race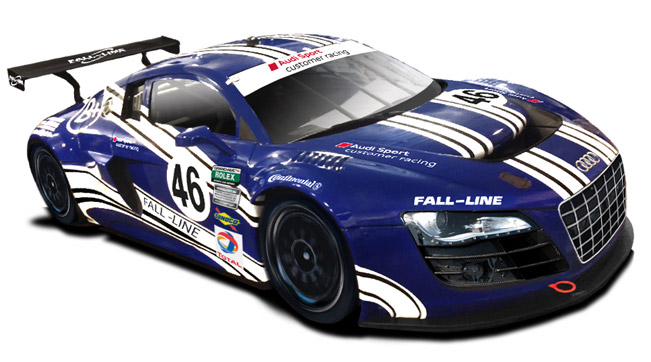 Audi R8 GRAND-AM made a return yesterday at the 6 Hours at Watkins Glen race as part of the endurance championship. Two Audi motor-sport cars took part in the contest: the GRAND-AM and the new Fall-Line Motorsport.
The winning Audi R8 GRAND-AM that won the Daytona 24 Hours earlier this year was driven by Felipe Albuquerque (Portugal) - the same driver took the checkered flag at Daytona; Eduardo Mortara (France/Italy) and Dion von Moltke (South Afraica) piloted the number 24 car. The official results of the race, hasn't been released yet, but we are impatiently looking forward to hearing some good news for the Audi team.
In fact, Fall-Line Motorsports number 46 R8 GRAND-AM in the B+ (Be Positive) livery made its debut at the event. The successful team brought great enthusiasm to the event. The piloting-trio Al Carter, Charles Espenlaub, and Charlie Putman has worked together for several years and has won many races including Fall-Line's team and drivers' 2010 Continental Tires Sports Car Challenge Series championship with Espenlaub and Putman.
Audi R8 GRAND-AM differentiates approximately by 50 percent of the R8 production car in terms of parts and equipment. For instance, the 5.2 Liter V10 naturally aspirated engine is fitted to the race-car, and was previously tested for maximum durability on the track.
In addition, the new Audi R8 production car has been also enhanced and now is offered as V10 Plus model which is capable of delivering 550 horsepower (405 kW). The model has an acceleration time from 0 to 100 km/h in just 3.3 seconds. The engine is matched with a new in-house developed seven-speed double clutch S tronic transmission that is exclusively utilized in the R8.
However, the six-speed manual gated shifting transmission is still available on all models as well as the new full-LED lighting design. New cross-stitched leather seats and door inserts finish the improvements on the interior of the 2014 R8 production car.
Source: Audi