Audi R8 V10 Plus - Best of the Best
Good news. Audi are refreshing their R8 range and are also adding a version which from now on will be the scoreboard leader. It's the Audi R8 V10 Plus with a new deliciously clever 7-speed S tronic gearbox.
Let's first talk about all the changes that have been made to the range. A new front bumper that underlines the innovations in the headlight department. By innovations we mean an extensive use of LED technology. Besides the daytime running lights, diodes emit the high and low beams. Optionally a carbon fiber reinforced plastic front splitter can be installed for that extra something. At the back the diffuser has been restyled alongside the R logo.
Under the engine cover, the choice of engines pretty much remains the same. There seems to be however, a bit of a jolt when it comes to power. The 4.2 FSI engine that goes in the Coupe and Spyder V8 models now produces 430 hp and just as much Nm of torque between 4,500 and 6,000 rpm. The 5.2 FSI V10 version of these cars stands now at 525 hp and 530 Nm. All seems very proportional. The highlight here however is the acceleration. Provided that the cars are with the new 7-speed S tronic, the 4.2 Coupe will cross the 62 mph mark in 4.3 seconds, the 4.2 Spyder – 4.5 seconds. The 5.2 Coupe and Spyder (again with the new gearbox) will do that in 3.8 and 4.1 seconds.
The real highlight however is the now fastest R8 of them all. Despite being called the Plus, it's not a plus size lady. In fact, because of the lightweight bucket seats and wheels and ceramic brakes and the scarce use of insulation, the Audi R8 V10 Plus – which is strictly a Coupe – weighs only 1,570 kg. Ten kilograms more than the 4.2 V8 Coupe. Consider the freshly squeezed 550 hp from the 5.2-liter V10 and also the 540 Nm that come along, and you have yourself a super car that can reach 60 mph from a stand still in just 3.5 seconds (S tronic again). Being a quattro, there should be no remarks on the handling whatsoever (no more than 30% of the torque goes to the front wheels so you get some tail-happy action as well).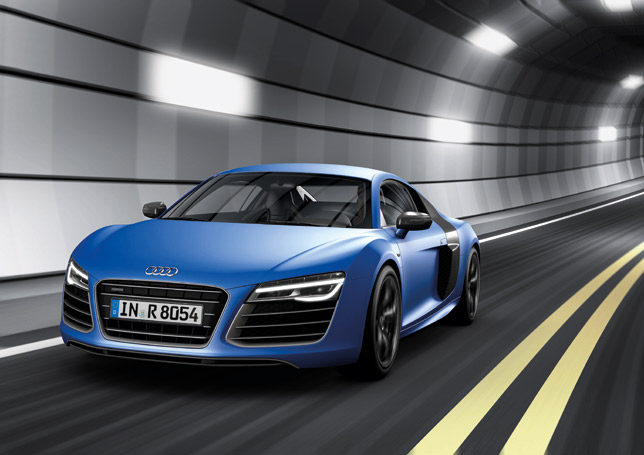 On the outside, one can recognize an Audi R8 V10 Plus by the black exhaust tips, front splitter, funnier looking air vents, the rear diffuser and mirror caps. It's 19-inch black gloss wheels with widths of 8.5 and 11 inches are subsequently coated in 235/35 and 295/30 tires respectively.
Source: Audi