XXX Performance Audi R8 V10
That speed hump on the road there is actually an Audi R8 V10 that has underwent a substantial modification by XXX Performance. And don't worry, that toxic green shade is actually foil wrapping. Unfortunately, the same is true for the "carbon-fiber" mirrors...and side blades...and wheels.
Let's talk about the wheel housings. Or more specifically, the lack of them. It's not that the wheels are tremendously big (Dunlop SP Sport Max 235/30R20 front and 295/25R20 back tires on 20-inch Oxigin 14-Oxrock rims). The bigger factor here is the air G-Ride system of the new H&R coilover kit which can lower the car ridiculously close to the ground. Other then than, the whole body has been brushed off of it's badges, the head and taillights have been darkened and a strip of foil on the windshield reads "XXX Performance".
Most excitingly however, XXX Performance have fiddled with the management system of the Audi's 5.2 FSI V10 engine, added a BMC carbon air-box and and a high-end sports car exhaust system with Bluetooth flap control system from Capristo. The end result amounts to 650 hp and an appealing sight within the engine bay because of all the carbon-fibery bits inside.
Inside you get restyled Audi RS seats, carbon-fiber arm supports, leather and plushy Alcantra pretty much everywhere and white white seams.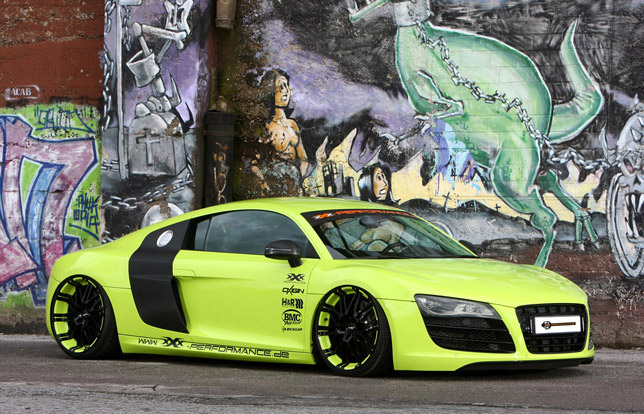 Source: XXX Performance