Audi RS Q3 Concept at Auto China 2012
Audi has announced that they will exhibit the incredible RS Q3 Concept at the 2012 Auto China in Beijing. The interesting crossover comes with complete performance package including mighty engine and a lot of spoilers.
The power is coming from a 2,5 liter TFSI with 260HP (191 kW). 0-100 km/h in 5.2 seconds and a top speed of 265 km/h (165 mph). The engine is mated to a 7-speed speed S tronic gearbox and the power is delivered to the wheels via the permanent Quattro AWD system. The sporty Q3 roll enormous 20" high-gloss alloy wheels fitted with low-profile performance tires.
The exterior boasts a new front grille with special honeycombs that are slightly offset to one another deeper inside, creating a distinct three-dimensional effect. The new headlights are slightly tinted and inside they feature some chrome parts, which are dark or covered by panels of carbon fiber-reinforced polymer (CFRP). The rear end features a new front bumper with a stylish air diffuser in order to underline the sporty theme. The exterior design is completed by the Ordos Blue color – a matt blue with a slight yellow tint.
The interior comes with Fine Nappa leather and Dark blue Alcantara in order to bring some colour.
Stay tuned for more info.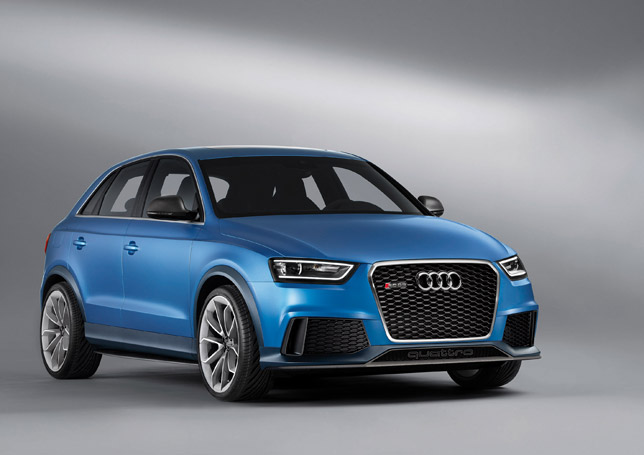 Source: Audi