Audi RS5 TDI Concept - Details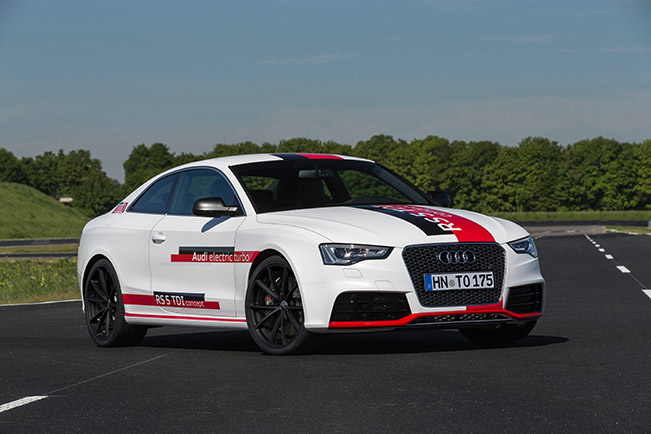 Audi has released full details and pictures for the impressive RS5 TDI Concept. The performance diesel model comes with an astonishing engine delivering exceptional power and fuel economy. It is designed to celebrate the 25th anniversary of the TDI engine.
Audi RS5 TDI is powered by a 3.0 liter twin-turbocharged V6 TDI with a "supplemental electric turbocharger". The electric turbocharger is powered by a compact lithium-ion battery and uses a separate 48 volt electrical system that is connected to the conventional 12-volt electrical system via a DC/DC converter. This special turbocharger can accelerate the compressor wheel to over 70,000 rpm in a few hundredths of a second. The exhaust turbochargers also provide as much as 2.4 bar of relative boost pressure. The result is astonishing – 385HP (283 kW) and 750Nm (553 lb-ft) of torque at 1,250RPM. 0-100 km/h in 4.0 seconds, 0-200 km/h in 16.0 seconds and a top speed of 280 km/h (174 mph). The fuel economy result in 5.3 liters / 100 km (44.3 mpg US or 53.2 mpg UK).
"25 years ago, Audi launched the first TDI on the market, writing the first chapter of an enduring success story," commented Prof. Dr. Ulrich Hackenberg, Board Member for Technical Development.
"Our latest innovation is the electric turbocharger, which further improves not just sprint times and pulling power, but also efficiency. This technology illustrates the possibilities harbored by 48-volt electrical systems, which we are currently developing for use in production vehicles.", he added.
Source: Audi