Audi Shooting Brake Allroad Concept Debut at NAIAS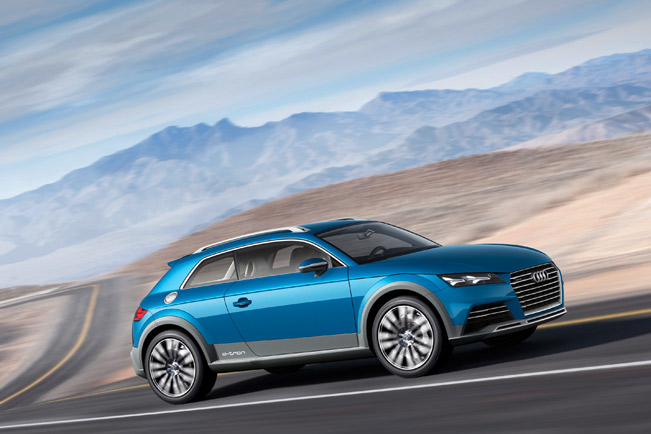 The mysterious Audi NAIAS Show concept has been revealed. It's a compact crossover allroad shooting brake thing that is, apparently, very "functional for recreational sports" and a "concrete look into the near future". Now, where have we heard that before?
It also has something called "sex appeal" according to Prof. Dr Ulrich Hackenberg who is a Member of the Board of AUDI AG. Technical Development. Must be related to those short overhangs, or the double LED rings within the front lights playing the part of quattro legacy in the flesh, or the succulent aluminum underbody at the raar. Erhm, let's not get too carried away here. The body is a blend of a carbon fiber reinforced polymer (CFRP) and aluminum. The wheels too (255/40 tires, 19-inch) are CFRP. All that space technology has brought down the weight to just 1600 kg-ish.
Sure it's compact – measuring at 4.20 meters from end to end, 1.85 meters long and 1.41 meters wide – the Ice Blue Audi NAIAS concept contains a complex hybrid drive system. It has an already powerful 2.0-liter TFSI engine that boasts 292 hp and 380 Nm of torque, it has a disk-shaped electric motor supplementing the said TFSI with 40 Kw of power and 270 Nm of torque, and a second electric motor which works independently on the rear axle. The total output amounts to 400 hp and 650 Nm of torque. That's 4.6 seconds from 0 to 60 mph and a top speed of 155 mph. All the while, you get back 123 mpg and 45 g/km of CO2 emissions based on the ECE standard if you don't put your foot down.
The e-S tronic dual clutch transmission sends the combined power output of the TFSI and the disc-shaped motor to the front wheels only. The third electric motor at the back runs only when the allroad is in EV mode (purely electric), in Sport mode, or when the on-board systems decides that AWD is needed. Consequently, Audi have called the system "e-tron quattro". There's also a Hybrid mode which regulates all three sources accordingly in order to achieve the best milage. If needed, the disk-shaped motor can act as a generator, charging the 8.8 kWh battery pack, which stands right in front of the rear axle.
All that clever stuff, is an extension of the interior really. You've got Audi's MMI terminal with its 12.3-inch screen, a comprehensive instrument panel which displays with varying (depending on the mode of driving) priorities the speedometer, the powermeter, the navigation map, and the tachometer. The interior is also a nice place to be in in general. So they tell us.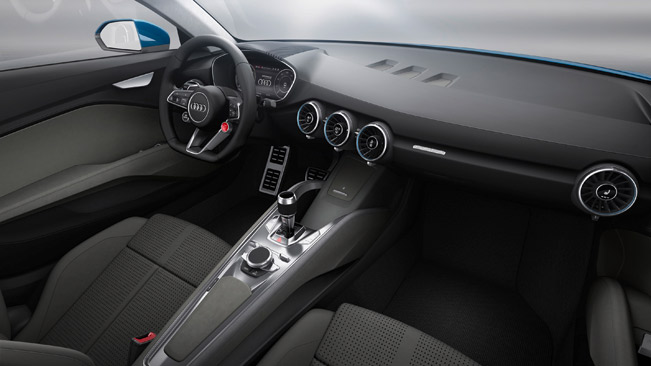 Source: Audi