Audi Show Car At 2014 NAIS In Detroit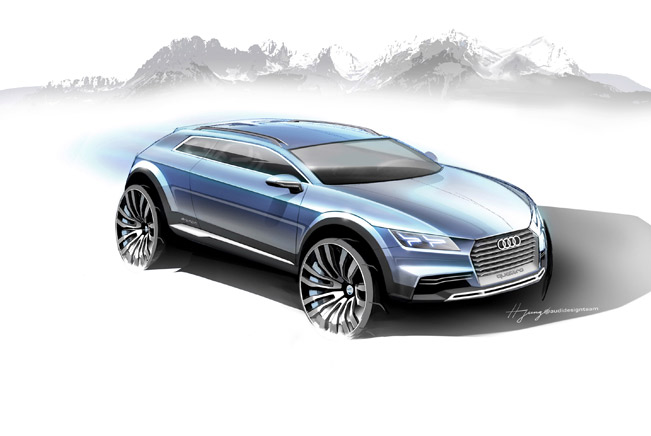 Because the world clearly needs more crossover SUVs, Audi's setting up the mood for a compact, high ground clearance, sports car. They plan is to fully unveil it at the 2014 North American International Auto Show which will be held next month in Detroit.
It will have two doors only, a "Shooting Brake" body type with a slanting and low roof line, and a pronounced C-pillar. It's essentially a coupé on steroids. If at this point you are thinking of the Crossblue Coupe from last month, you are on the right track. However, the Audi is going to be 165-inches in length as opposed to the substantially longer VW which measures at 192.5 inches.
Every other aspect, though, sounds mighty familiar: short overhangs, a honeycombed singleframe grille and a "striking side tornado line" to the back.
The sketches suggest humongous wheels, but actually, we should be expecting a 19-inch set which is okay.
Will it actually be capable of going off the road as well as on it? Supposedly, yes. There are massive guards underneath it to keep the boulders out of the engine bay and without a doubt, it will be using Audi's quattro system has seen decades of development now.
More on Audi's show in the near future.
Sources: Audi