Audi Sport TT Cup Races to be Launched from 2015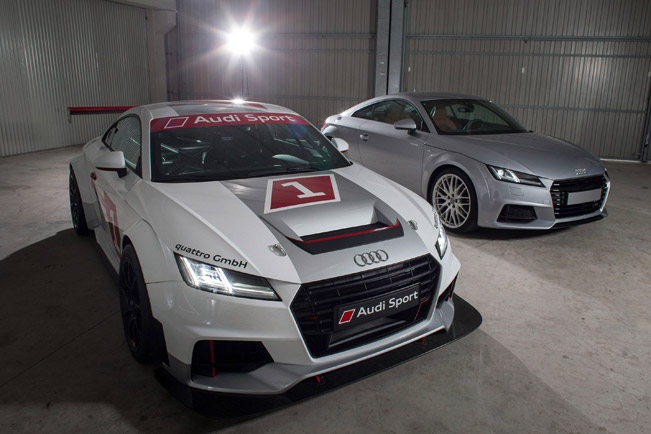 Audi Sport TT Cup is entering the motorsport world. The new car will be included as part of the DTM starting in the 2015 season, which means that next to the Audi R8 LMS Cup, Audi is also launching another one-make cup in Germany next year. The vehicle is the racing version of the new Audi TT which has a kerb weight of only 1,125 kilograms. It produces 310 horsepower (228 kW) and via the push-to-pass function the output of the two-liter TFSI engine can be boosted by 30 hp (22 kW).
Audi TT is an iconic model which is a pure example of powerful sportiness and emotional design. Currently, the production model is in its third generation version. It was a logical consequence that Audi has released a motorsport version of the model.
As mentioned, the car will take part in the 2015 season in the DTM events. quattro GmbH will prepare and field the 24 cars. There will be six cockpits that will be reserved for changing guest drivers. For the other 18 places, interested drivers from around the globe can apply online.
The selection process will take place in close cooperation with the Audi driving experience. Markus Winkelhock who has already tested the car at the Nürburgring will be also available to coach the participants of the Audi Sport TT Cup as an experienced professional race driver.
The low weight of the car is due to the utilization of material mix of steel and aluminum, which provides an ideal base for a race car. In addition, the four-cylinder TFSI and the six-speed S tronic which were adopted from the production model, have been left almost unchanged. The electronically variable from the cockpit active differential ensures optimal traction at the front axle.
Source: Audi