Audi SQ5 TDI
It's an Audi Q5 diesel...S. It's also a concept and the latest buzz that's come out from Inglostad. However, when we say "concept" we don't really mean something far fetched. All is planned and the Audi dealerships will get their batch of TDI S goodness well into the first quarter of 2013.
So then, the core of the Audi SQ5: a 3.0-liter TDI engine that has two (not one) turbochargers. It's oily bits have been reinforced in way so that they can take the stress of 313 hp and 650 Nm of torque. The latter comes at you within the 1,450 and 2,800 rpm range. Don't fear diesel rattling either as most of the noises will most probably be coming from the "sound actuator" in the SQ5's exhaust system.
Some performance figures:
zero to 62 mph: 5.1 seconds
Top speed: 155 mph
Fuel economy: around 33 mpg combined.
Some clever stuff: a Quattro system with torque vectoring that manages all four wheels. A start/stop system and a regulated oil pump for saving fuel and a very lean eight-speed tiptronic gearbox.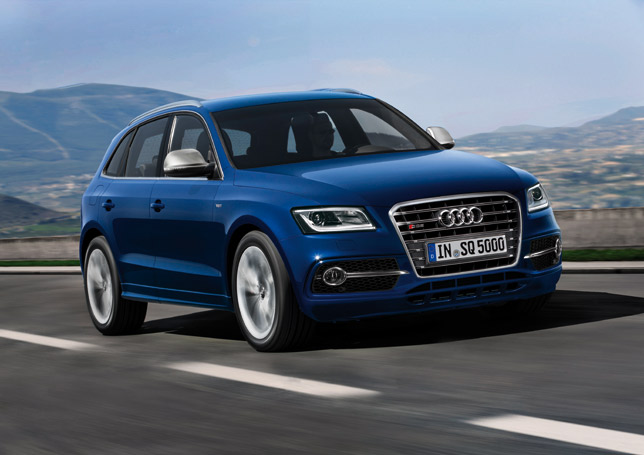 The fact that it's an Audi S means that the suspension is firmer and lower by around 1.18 inches but still high enough – this is a Q5 we are talking about. The wheels are monstrous at 20-inches in size (21'' optional) and so are the 255/45 tires around them.
Obviously, this being an SQ5, there is going to be a cosmetic distinction from the mortal Q5s - platinum gray single-frame grille with galvanized double bars, a roof spoiler and modified bumpers. Inside, black will be the color that prevails made up of Nappa leather and Alcantra. You can have some brushed aluminum with that and some gray dials on the instruments. Other highlights include the S badges on the door sill trims, the S gear lever knob, the start button and the specially designed steering wheel.
The Audi SQ5 TDI is expected to come around during the Spring of 2013 with a starting price of 58,500 Euros or $73,593.
Source: Audi