2013 Audi Q5 - the updated high-performance SUV
2013 Audi Q5 SUV is all about sportiness and comfort. It is multifunctional and spacious, and now even more efficient. The model comes with updated design, infotainment system, chassis and engines.
For instance, the 2013 Audi Q5 Hybrid Quattro is the fist hybrid model which the brand is producing. It draws its power from a powerful V6 engine, which however delivers fuel economy of a four cylinder one.
First, let's review the engine choice. The upgraded Audi model comes with five engine options: three TDI and two TFSI engines. No matter of the type of the engine, all combine direct fuel injection with charging, and a start-stop system as a standard.
In addition to this it is important to mention that the engines now are with lower fuel consumption in comparison to the previous model.
In fact, the most efficient one is the 2.0 TDI engine, which is offered in two versions: the first one is four-cylinder engine in combination with manual transmission and front-wheel drive, which produces 105 kW (143 hp) and 320 Nm (236.02 lb-ft) of torque. It has an average fuel consumption of 5.3 liters of diesel per 100 km (44.38 US mpg) – and a CO2 equivalent of 139 grams per km (223.70 g/mile).
The second one is with 130 kW (177 hp) and 380 Nm (280.27 lb-ft) of torque (with S tronic and quattro drive) and has a fuel consumption value of 6.0 liters per 100 km (39.20 US mpg).
The third available engine is the 3.0 TDI, which delivers 180 kW (245 hp) and 580 Nm (427.79 lb-ft) of torque. It comes with V6 diesel engine and is mounted to a seven-speed S tronic and quattro drive system.
This engine helps the Q5 to accelerate from 0 to 100 km/h (62.14 mph) in 6.5 seconds and has a top speed of 225 km/h (139.81 mph). The figure of its combined fuel consumption is just 6.4 liters of fuel per 100 km (36.75 US mpg).
Furthermore, in the engine range are also included gasoline engines, which feature the highlight of the TFSI engine line-up. Namely, it is the new two-liter, four-cylinder engine which includes innovations such as in the control of valves and their stroke, innovative thermal management, the fuel injection system, turbocharger and integration of the exhaust manifold in the cylinder head.
Next the new 2.0 TFSI outputs 165 kW (225 hp) and 350 Nm (258.15 lb-ft). Its fuel consumption is 7.6 liters per 100 km (30.95 US mpg).
More impressive in terms of performance is the new 3.0 TFSI – the three-liter V6 engine with supercharging. This one replaces the 3.2-liter engine. It deliver 200 kW (272 hp) of power and 400 Nm (295.02 lb-ft) of torque.
The acceleration from 0 to 100 km/h (62.14 mph) for this one is possible in 5.9 seconds. With it the car has a top speed of 234 km/h (145.40 mph), and combined fuel consumption of 8.5 liters per 100 km (27.67 US mpg).
Important changes in the Audi SUV have been made in terms of transmission as well. Each of the models now comes with an optimal transmission system.
For instance, the four-cylinder engine works with a manual six-speed transmission. This is the standard equipment of the engine.
On the other hand the eight-speed tiptronic is available as an option for the 2.0 TFSI with 165 kW (225 hp). This one comes as standard in the 3.0 TFSI.
Next, the sporty seven-speed S tronic is standard transmission in the 3.0 TDI. It is optionally available in the 2.0 TDI with 130 kW (177 hp).
What comes also as a standard on all versions (except for the 2.0 TDI engine) of the Q5 is the quattro permanent all-wheel drive system.
Additional changes have been made to the chassis, which now comes with new refinement and comfort in the characteristics of the springs, shock absorbers and stabilizers. The new electro¬mechanical power steering system gives the driver a better feel for the road with direct gearing.
Furthermore, 2013 Audi Q5 runs on 17-inch aluminum wheels and size 235/65 tires.
Another exceptional feature in the Audi Q5 is the Audi drive select system. It allows the driver vary the characteristic of the accelerator pedal, the shift points of the automatic transmission, amount of power steering assist and operation of the automatic air conditioning system via four modes.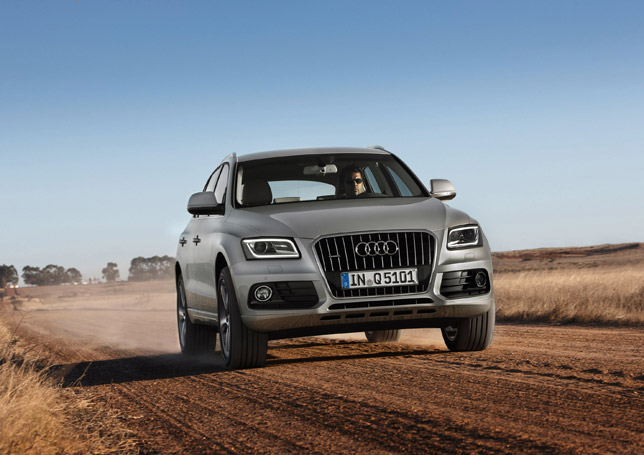 As you can clearly see the Audi Q5's exterior is progressive and sporty, spacious and functional. It has a coupe-like roof line and wrap-around tailgate. The interior design of the headlights has been modified; the LED daytime running lights of the optional xenon plus units are shaped as curved bands that surround the headlights.
The high-gloss black Singleframe grille has beveled upper edges; its vertical chrome struts and the Audi rings have a sculpted look. In addition, bumpers are modified and integrate air inlets with high-gloss black inserts and fog lights with chrome rings.
The new Audi Q5 is available in wide range of fifteen colors, four of which are new.
In terms of upgrades in dimensions, the SUV is now 4.63 meters (15.19 feet) long, 1.90 meters (6.23 feet) wide and 1.65 meters (5.41 feet) tall. Its drag coefficient is 0.33 and its frontal area is 2.65 m2 (28.52 square feet); the curb weight of the base version is 1,755 kg (3,869.11 lb).
The interior of the Audi Q5 has also been restyled. For example, many of the user controls have narrow chrome trim; the steering column control stalks, ignition key and instruments were as well modified. Additionally, the narrow panels of the center console are high-gloss black.
Other refinements have been made to the controls for the seat heating, air conditioning system, Audi drive select system and the multifunction steering wheel.
Of course, throughout the interior can be seen a lot of efforts put in terms of details. All this has been done with high-quality of craftsmanship and precise selections of materials, colors and upholstery fabrics.
Moreover, the interior now comes in three new interior colors, three fabric and three leather qualities.
Audi delivers a wide selection of infotainment systems in the upgraded Q5: the Bang & Olufsen sound system, MMI navigation plus with a large hard drive, seven-inch color monitor, 3D graphics and DVD player.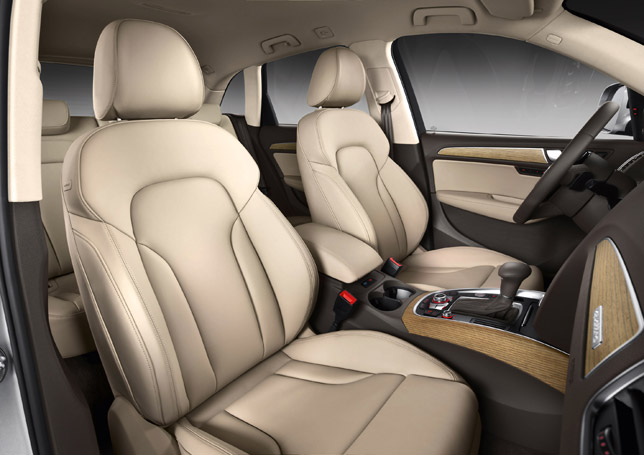 2013 Audi Q5 Hybrid Quattro is a version of the model which in fact is the first hybrid model from Audi. It is highly efficient and yet powerful. It draws its power from the 2.0 TFSI engine which produces 155 kW (211 hp) and 350 Nm (258.15 lb-ft) of torque as well as an electric motor with a peak output of 40 kW (54 hp) and peak torque of 210 Nm (154.89 lb-ft).
Combined, the two power sources can output a system power of 180 kW (245 hp) and a system torque of 480 Nm (354.03 lb-ft).
In particular, this make possible for the hybrid to accelerate from 0 to 100 km/h (62.14 mph) in 7.1 seconds and to reach a top speed of 225 km/h (139.81 mph).
Another important fact is that in pure electric mode, it can cover up to three kilometers (1.86 miles) at a constant speed of 60 km/h (37.28 mph). In this mode, its top speed is 100 km/h (62.14 mph), while its combined fuel consumption is just 6.9 liters per 100 km (34.09 US mpg).
Furthermore, the Q5 hybrid comes equipped with an eight-speed tiptronic transmission which transfers engine power to the drivetrain without requiring a torque converter.
Here, driver switches between the three driving modes with the help of a button and a tiptronic gear selection lever. The EV characteristic map prioritizes the electric drive. The D mode controls both the internal combustion engine and electric motor. At last, the S mode and the manual shift gate of the tiptronic are stand for more sporty style of driving.
The 2013 Audi Q5 Hybrid Quattro can be recognized by its siblings by its entirely painted bumpers and by the hybrid-specific ten-arm turbine design of its wheels. It runs on 19-inch wheels are standard.
The new 2013 Audi Q5 SUV will be available at dealerships this summer with a starting price of 39,900 euros.
Source: Audi