Audi TT Sportback Concept Revealed at Paris Motor Show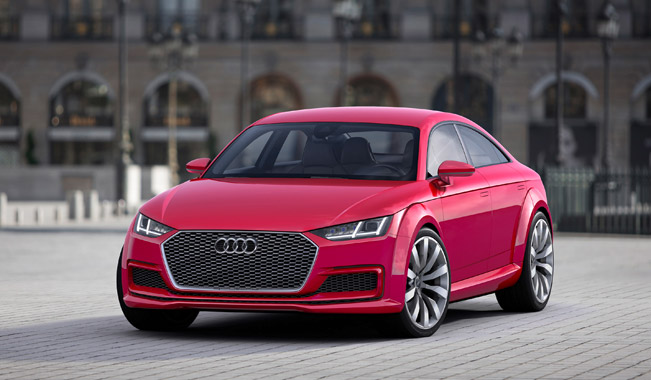 Audi TT Sportback concept is inspired by the five-door A5 and A7 Sportback models. The concept vehicle is currently making a debut at the Paris Motor Show. It is characterized by the additional 29 centimetres of the length of the 'standard' TT in order to incorporate extra rear doors. Its 2.0 TFSI engine also enhances the engine output range in the production coupe, delivering the blistering 400 horsepower (294 kW).
The engine is coupled with a seven-speed S tronic twin-clutch transmission, helping to peg the 0 to 62mph sprint time at just 3.9 seconds. This car also features quattro permanent all‑wheel drive system, sophisticated suspension and the low centre of gravity as well as lightweight aluminium components. In addition, a laser spot that complements the LED high beam is featured in each of the headlights.
The five-door TT Sportback concept measures 4.47 metres in length, 1.89 metres in width, and 1.38 metres in height. It is built around a wheelbase of 2.63 metres. When compared with the new production TT, it is not 29 centimetres longer, but also 6 centimetres wider, 3 centimetres lower and its wheelbase is 12 centimetre longer.
The interior is underlined by slimline applications on the dashboard and doors, as well as a long centre console and the super sport seats with the integrated head restraints. There is also space for two people in the rear in individual seats with integrated head restraints.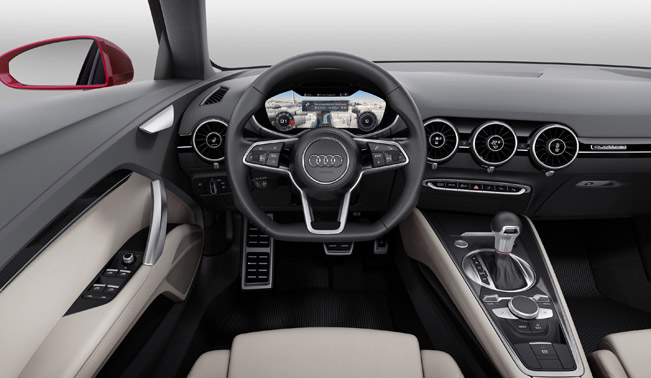 The Audi virtual cockpit, the digital instrument cluster, replaces the conventional physical displays and the central MMI monitor. 12.3‑inch touch screen allows the driver view graphics of high levels of clarity.
As mentioned, this concept car is powered by the 2.0 TFSI engine. It produces 400 hp (294 kW) at 6,400 rpm, with a specific output of 200 hp per litre of displacement. Despite this number, the car also returns good fuel efficiency rated at 40.3mpg. This equates to CO2 emissions of 162 grams per kilometre.
The turbocharged direct-injection engine is responsible for the 3.9 acceleration time of the car for the sprint from 0 to 100km/h (62 mph). The powerplant is coupled with a compact seven-speed S tronic transmission, featuring three-shaft layout. The driver can let the dual-clutch transmission operate in two automatic programs or take control using the paddles on the steering wheel.
The suspension of this concept is based on a McPherson system. The aluminium components minimize the weight of the unsprung chassis masses, while the four-link rear suspension can process the longitudinal and transverse forces separately. The car runs on 21-inch wheels fitted with tyres in the format of 255/30. The four brake discs in 18‑inch format include a weight-saving wave design. Electronic Stabilisation Control (ESC) adds is what rounds-out the chassis.
Source: Audi