BBR Ford Focus RS MK2 is a real madness - 404hp on the front wheels
BBR tuning company reveals a new range of performance conversions for the most powerful hot hatchback on the market - Ford Focus RS MK2. Furthermore, BBR offers suspension upgrade package to match the improved power of the engine. BBR Ford Focus RS has been tested for year and a half, so it is ready to hit the road.
There are several phases of tuning from BBR for RS MK2.
Phase one is BBR StarChip Software upgrade, which improves the power of the car by an ECU remap. The engine becomes more responsive, the mid range torque is improved as well as the peak horsepower. However, the car is much quicker without any mechanical changes.
The entry level upgrade transforms the performance and driveability of the Focus RS via an ECU remap. Use of BBR's StarChip software affords an extremely linear throttle pedal / turbo boost map, resulting in a considerably smoother driving experience than offered by the factory ECU settings. With a huge improvement in throttle response, the mid range torque and peak horsepower are substantially enhanced, with no visibly obvious mechanical changes.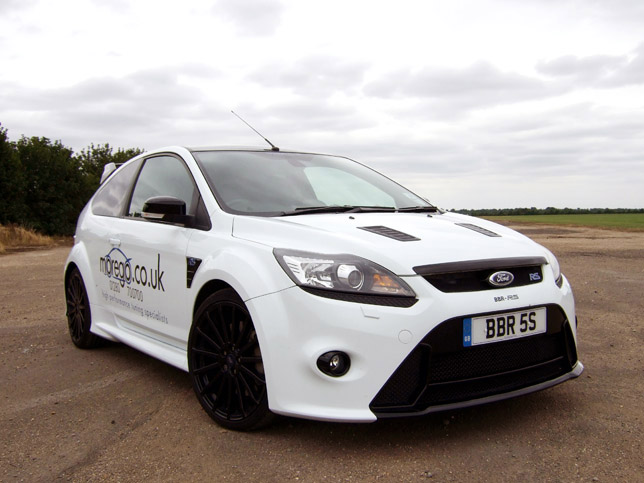 Phase One Conversion includes: Custom Mapped BBR Star Chip - With careful calibration of the standard Focus RS MK2 ECU, fuel, ignition, torque, airflow and boost requirements are carefully re-mapped for all conditions, making this conversion a worthy level one addition to our range. BBR is confident that this ECU remap represents the finest blend of drivable performance for track and road. Silicone induction hose - During testing under full load BBR has found the original air intake hose distorting, causing an airflow restriction. Replacement of this hose is essential to release the full performance of the Phase One conversion. BBR Focus RS Phase One Power 342 HP at 6150 RPM BBR Focus RS Phase One Torque 369 ft/lbs at 3350 RPM

The price is just ridiculous for such improvement  - £595.00, the customers should allow 2 hours for installation. A DIY kit is also available.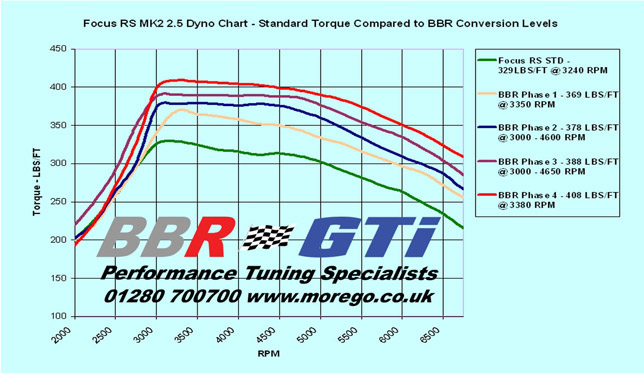 Phase two is BBR RS355, which replaces the RS MK2's standard inefficient intercooler with BBR's own high flow unit. All inlet air box hoses to and from the air-box and to the RS's turbocharger unit are replaced with high flow, silicon versions, removing inlet air flow restrictions in the process. Phase two includes BBR StarChip Software upgrade.
Phase Two Conversion includes: BBR spec High flow intercooler - Finished in gloss black, the BBR intercooler sits discretely behind the Focus RS MK2's aggressive front grill, utilizing the full width of the aperture. This highly efficient inlet core allows BBR to manage inlet air temperatures easily, helping to optimise performance at higher boost levels.

High Flow inlet hose set – A complete set of high flow replacement hoses are included, removing manufacturer's inherent flow restrictions and allowing greater flow from the turbocharger.

High flow filter – BBR specifies a drop in performance air filter which improves throttle response and comes with a million mile warranty. BBR Focus RS Phase Two Power 355 HP at 6580 RPM BBR Focus RS Phase Two Torque 378 ft/lbs at 3000-4600 RPM

The price of BBR RS355 is £1245.00, with a fitting charge of £195.00, customers should allow four to five hours for installation. A DIY kit is also available.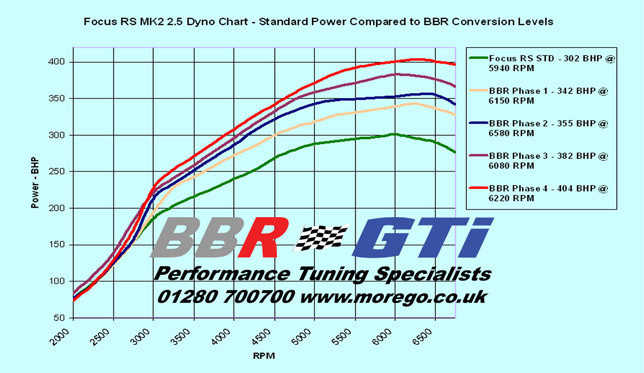 The third phase is BBR RS380, which includes phase 1 & 2 and adds BBR 3" stainless steel exhaust that includes a sports catalyst (retaining emissions legality). In addition to the sports exhaust, BBR improves Focus RS MK2's fuel system to cope with the higher demands required at this boost/power level, using larger fuel injectors. BBR's Star Chip ECU software is then carefully calibrated in parallel with the larger fuel injectors to ensure no loss in drivability or fuel consumption penalty.
Phase Three Conversion includes: A BBR spec Turbo back high flow exhaust with sports cat – a complete system including sports catalyst, highest quality aircraft grade stainless steel finished with Twin 4" tail pipes that sit perfectly within the Focus RS MK2's original bumper aperture.

BBR spec high flow fuel injectors - Drop in replacement fuel injectors, with careful BBR Star Chip software calibration, BBR injectors are optimised for this power level. BBR Focus RS Phase Three Power 382 HP at 6080RPM BBR Focus RS Phase Three Torque 388 ft/lbs at 3000-4650RPM

BBR RS380 is priced at £2495.00, with a fitting charge £345.00, customers should allow six to eight hours for installation. A DIY kit is also available.
The last phase is four - BBR RS400, which extracts 400 horse power of Ford Focus RS MK2. As part of the BBR Phase Four upgrade, the RS original turbocharger is replaced with our higher flow motorsport spec item and further modifications are made to the fuel system. Just imagine a hot hatchback with 400 horsepower only on the front wheel. This is madness.
Phase Four Conversion includes: BBR specification high flow fuel pump – The BBR high flow fuel pump directly replaces the stock item, as the fuel flow required at this level surpasses that available from the OEM Ford unit.

BBR Hybrid turbo charger – This is a fully overhauled unit, with extensive modifications including; All bearings and seals replaced, a CNC re-profiled compressor cover, a billet motorsport 360° thrust bearing and thrust washers, a billet larger diameter inlet compressor wheel,cutback turbine wheel, central core rotational housing balanced to motorsport spec, ported and flowed compressor cover, turbine housing and wastegate valve.

BBR Focus RS Phase Four Power 404 HP at 6220RPM BBR Focus RS Phase Four Torque 408 ft/lbs at 3380RPM

The price is a bit higher, but it worths every penny - £3895.00, with a fitting charge of £595.00, customers should allow a full day for installation. A DIY kit is also available.
* All MK2 Focus RS conversion levels for DIY fitment require the ECU to be sent to BBR to allow for software installation.
Further modification is the upgrade of the suspension of Ford Focus RS MK2, which you will definitely need, especially with the final performance upgrade.
BBR Focus RS Performance Spring set - track and road developed performance springs are designed to work with the car's existing standard dampers, or our own adjustable dampers for a more comfortable ride, however, the set lowers Focus RS's ride height.DIY Price £195.00, fitting charge £300.00, including a full geometry setup.
BBR Spec Focus RS Koni adjustable dampers - a set of adjustable BBR spec Koni dampers which are compatible with either the standard Ford springs or BBR's own performance spring set.DIY Price £795.00, fitting charge £300.00, including full geometry setup.