Bentley Embiricos 4¼ -Litre at Crewe Factory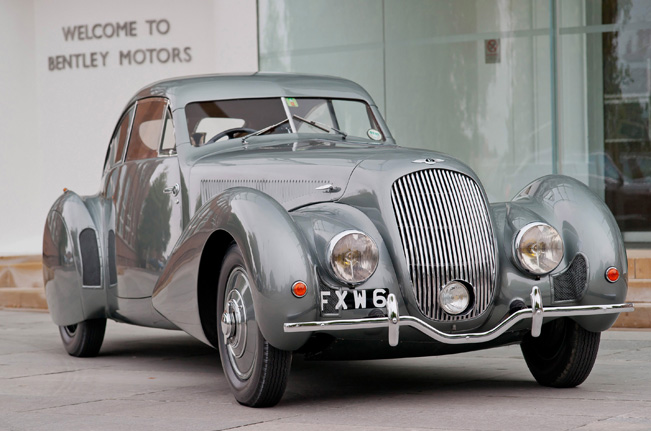 One of the most appealing things in the automotive world is the rare, old and iconic luxury cars, which almost have dreamt to drive. Bentley Embiricos 4¼ -Litre is undoubtedly one of them. Looking like a vehicle that has just came out of the first Batman movies, it captures the heart with effortless ease.
In fact, this Bentley is one of the rarest and most valuable cars in the world. One example of this model will make historic appearance at the marque's home in Crewe.
The car has just participated in the Louis Vuitton 'Serenissima Run' in Venice and has been featured at the Le Mans Classic as part of the Bentley lineup. Now, the magnificent car takes pride of place in the Lineage Showroom at the firm's Pyms Lane factory until September.
Going back in time, throughout the 1930's Bentley Motors was owned by Rolls-Royce. At that moment it was producing fast, refined and well-built Grand Tourers from its Derby factory.
Back then many Bentley owners sent their chassis to traditional coachbuilders in order their car to receive elegant bodywork. However, some enthusiasts from across the Channel were eager to explore the new world of aerodynamics.
One such owner - André Embiricos, had taken the step and decided to investigate the possibility of a streamlined high-performance Bentley. The result was the most famous Bentley of the Derby era.
Georges Paulin, a designer working for coachbuilders Pourtout Carrossier was assigned to do the work around it. The effect was that Pourtout produced a strikingly sleek, aerodynamic body for a 4¼-Litre Derby Bentley that would be suitable for fast touring and track records alike.
In fact, an age-hardenable aluminium alloy was utilized in order to keep the weight down the fastback body with split rear window. This made it possible for the "Embiricos" Bentley to achieve all the criteria for a Bentley high performance grand tourer.
After the war, the Embiricos Bentley served as an inspiration for the glorious 1952 Bentley Continental R Type. In fact, you can still see the resemblance of the iconic shape of today's Bentley Continental GT coupe.
Source: Bentley