Black Pearl Volkswagen Golf VI GTI
SIEMONEIT RACING has unveiled a special tuning package for the new Golf VI GTI. The name of the project is black pearl.
The exterior tuning package consists of  a carbon-fibre bonnet, in-house sport exhaust system and a set of nice wheels.
The performance package consists of a special air intake which forces cooler air into the combustion chamber for better efficiency. There is also an ECU re-map and the results are more than satisfying - 355 PS and 485 Nm. However, Hardware modifications will transform the R20 Golf into a beast producing about 530HP.
At SIEMONEIT RACING the stainless steel SR20.500.1 exhaust system for the current Golf R20 was developed for performances well above the 500 HP limit. The system starts out at 76mm at the turbocharger with a 100 cpi (or optionally a 200 cpi) metal catalytic converter and from there it goes straight through to the two 90-mm exhaust outlets. The system is made of US405.409 marine quality stainless steel and is indispensable for performance of 330 HP and above. It goes without saying that the system is ready for the TÜV Inspection.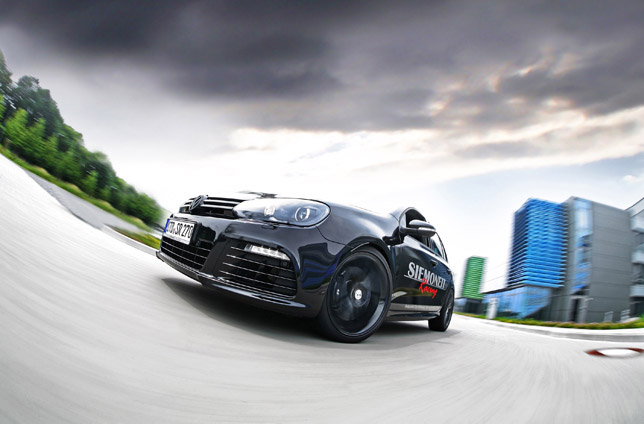 PRICING: ECU Modification:                         698€ DSG Modification:                        298€ Exhaust System:                         1749€ Intake System:                               449€ Center Intercooler:                      1199€ High Pressure Fuel Pump:          499€
Source: SIEMONEIT RACING