BMW at the 2012 NAIAS Detroit
With the North American International Auto Show (NAIAS) in Detroit dangerously close, BMW have kindly offered a glimpse of what their exhibit will look like. So here is a quick summary of what you should be excited about.
BMW 3-Series Sedan – The sixth generation of the compact executive vehicle will be showcased there with an improved design and a new engine lineup. The company is eager to announce that now the new 3 series is around 45 mm wider and 93 mm longer than its predecessor. Despite these stretchy dimensions the sedan has actually managed to lose some weight (40 kg lighter). The trim and equipment level comes in three different categories: Sport Line, Luxury Line and Modern Line.
Initially, customers will have the opportunity to chose from two petrol engines with two diesels coming later the same year. It is important to mention that all power plants will utilize the latest BMW TwinPower Turbo technology
The BMW 328i will carry the new generation 2.0 liter, four-cylinder petrol engine. It will produce  180kW/245 hp and a peak torque of 350Nm (258lb-ft) from as early as 1.250 rpm. That sort of power will give the luxury sedan a 0 to 100km/h (62mph) sprint time of just bellow six seconds. Amazingly enough the stated fuel economy is a generous 44 mpg figure. Keep in mind that all of the trim levels will come with an Auto Start-Stop system as standard.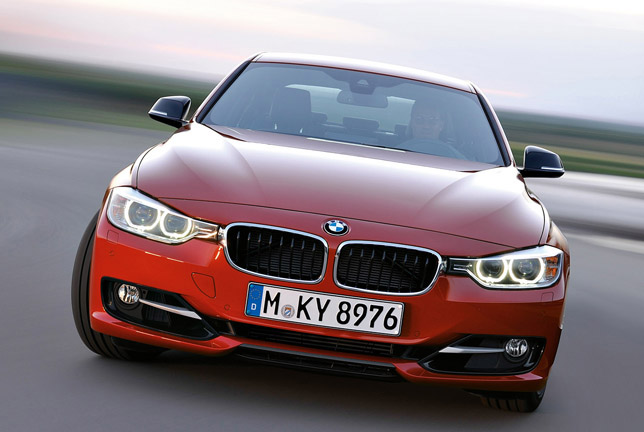 The more power hungry can go for the BMW 335i. It will house a renown 3.0 liter straight-six which develops 225 kW/306 hp and a maximum torque of 400 Nm (295 lb-ft) at just 1,200 rpm. Thus in every single respect the 3 series will outperform their predecessors.
Upon request an 8 gear automatic box can be paired to whichever engine you might chose. This option is claimed to bring benefits in terms of economy and driving experience.
In true BMW spirit the cabin is full with neat gadgets such as a sharp Head-up Display, Active Cruise Control, the Lane Change Warning System and Lane Departure Warning System. A new Driving Experience Control switch not only offers Comfort, Sport and Sport + options, but also ECO PRO mode which will allow drivers to fully optimize their driving in order to achieve stunning fuel economy.
BMW ActiveHybrid 5 – This is something that will make it's debut on the NAIAS as
the most powerful and efficient full hybrid in its segment. Fuel efficiency and power output are targeted
To provide power, the same engine which can be found in the 335i and 535i is used. However, here it has a co-worker: a 40 kW/55 hp electric motor supplied with energy by a high-performance lithium-ion battery integrated into the luggage area. So that is 250 kW/340 hp overall power which thrusts the ActiveHybrid from 0 to 100 km/h (62 mph) in 5.9 seconds, limits average fuel consumption to between 6.4 and 7.0 litres per 100 kilometres (44 – 40 mpg imp) and puffs CO2 emissions of just 149 – 163 g/km.

Not surprisingly, it is a very clever this hybrid. When the car is coasting or braking, the motor acts like a generator which in turn charges the high-performance battery pack. However, if you put your foot down, the motor will assist the straight-six petrol powerhouse to give the sort of dynamic boost you do not experience in ordinary cars. Then when you have reached a respectable amount of speed (up to 100 mph) what you can do is to shut down the engine and disengage it from the wheels so that you are back to coasting, using that gathered potential energy as efficiently as possible. You'll be able to do that with no regrets as all safety features will be fully operational.
BMW M5 – Yes, this sensational performance miracle will also be there. BMW boast about how their new engine (as opposed to the old one) has a 10 percent increase in power and 30 percent increase in torque and that consumption has dropped by 30 percent. This is the first time the company gives a chance to the turbo technology to prove itself better than the pure, naturally-aspired, brute force that was in the previous generations of M5s. As a result now the engine is a V8 rather than a V10 and the displacement is only 4.4 liters but the power is up - 412 kW/560 hp at 6,000 – 7,000 rpm, while its maximum torque of 680 Newton meters (502 lb-ft).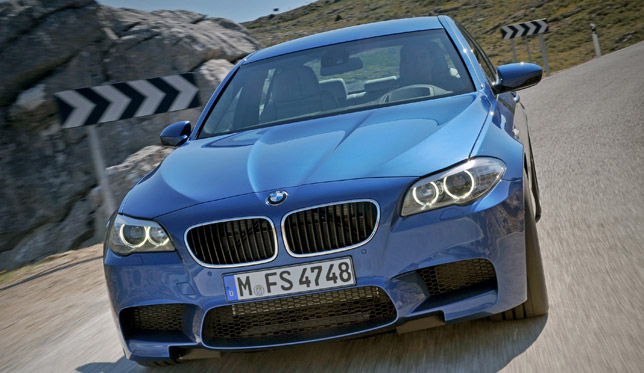 To handle that massive lump of power, the M5 makes use of a very clever rear axle differential with a variable locking function. It works alongside with the DSC (Dynamic Stability Control) system to ensure the best rear-wheel drive experience there is. The suspension is also notable for its electronically controlled dampers. Dynamic Damper Control uses electro-hydraulic damping force adjustment to provide a set-up suited to the driving situation or the wishes of the driver.
Here is a full list of it's specifications:
V8 petrol engine, M TwinPower Turbo technology with Twin Scroll Twin Turbo, cross-bank exhaust manifold, High Precision Direct Injection and VALVETRONIC variable valve control.
Displacement: 4,395 cc
Power output: 412 kW/560 hp at 6,000 – 7,000 rpm,
Max. torque: 680 Nm (502 lb-ft) at 1,500 – 5,750 rpm.
Acceleration 0–100 km/h (62 mph): 4.4 seconds, acceleration 0–200 km/h (124 mph): 13.0 seconds
Top speed: 250 km/h / 155 mph (305 km/h / 190 mph with M Driver's Package)
Average fuel consumption: 9.9 litres/100 kilometres (28.5 mpg imp)
CO2 emissions: 232 g/km, exhaust standard: EU5
The i3 and the i8 - No, those are not the latest Apple products although they do have similar visionary ambitions. We are talking about two new concepts which will embody the BMW technological know-how.
The i3 is a fully electric vehicle which is a result of BMW's commitment to the environment. Suitable for the urban area, the i3 sets new standards for efficient use of materials, light weight technology and long-distance electricity runs. It has a 125 kW/170 hp electric motor which delivers an impressive amount of torque (250 Nm (184 lb-ft) to the rear wheels. It will take you under four seconds to reach 60km/h (37mph) from a standsill and around 8 seconds to reach 100km/h (62mph).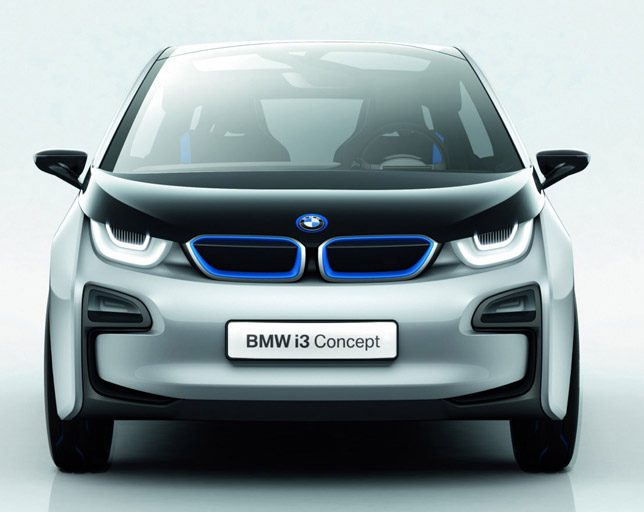 BMW say it will  be spacious and practical too with a boot capacity of 200 liters, and enough space to breathe freely in the cabin.
The more driver oriented i8 is a daring one with some innovative plug-in hybrid technology inside. Along with the electric wizardry that can be find in the i3, the i8 has a rear-mounted, high-performance three-cylinder combustion engine producing 164 kW/220 hp which delivers 300 Nm (221 lb-ft) of torque. Acceleration from 0 to 100 km/h (62 mph) is under five seconds while economy is stated to be three liters per 100 km (approx. 94 mpg imp). It can travel up to 35 kilometres (approx. 20 miles) on electricity alone and it has seating for four. Because of the two motors (the electric one at the front and the petrol one at the back) it has perfect weight distribution and a low center of gravity which is all beneficial to the driving experience.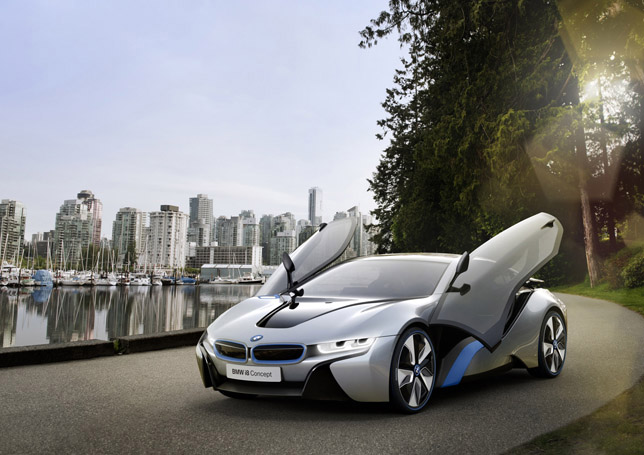 For more technological nirvana, be careful not to miss out on anything at NAIAS in Detroit which starts next year, January the 9th.
Source: BMW