BMW 520d EfficientDynamics Saloon - 62.8mpg
Do you remember BMW E39 525TDS Automatic? Yep, this old huge saloon, which was meant to go at long journeys with minimal fuel consumption. Fail! The car was so heavy and underpowered that it was a nightmare to drive. Still, there are thousands of them even now and they still work or kind of…
Now, you'll be able to buy the brand new BMW F10 520d EfficientDynamics Saloon, which is also meant to be driven for a huge distance with minimal expenses. This time, BMW created a very nice drivable machine having decent dynamics and extremely low fuel consumption.
The sixth-generation of 5-Series sets a class-leading figures with its 520d EfficientDynamics model. The car comes with Auto Start-Stop, an 8-speed automatic ZF transmission and a double-wishbone front suspension. Furthermore, it returns whopping 62.8 mpg, which is below 4 litres diesel per 100 km and this is on combined cycle. The harmful emissions are also very low – only 120 g/km.
And if all this is not enough, check this – 184PS (135 kW) and 380Nm (282 lb-ft) of torque meaning 0 to 100 km/h in 8.2 seconds and a top speed somewhere around 232 km/h (144 mph). Not bad, not bad at all for big family saloon, which will carry you, your children and even the dog through more than a thousand kilometres with a single tank of fuel.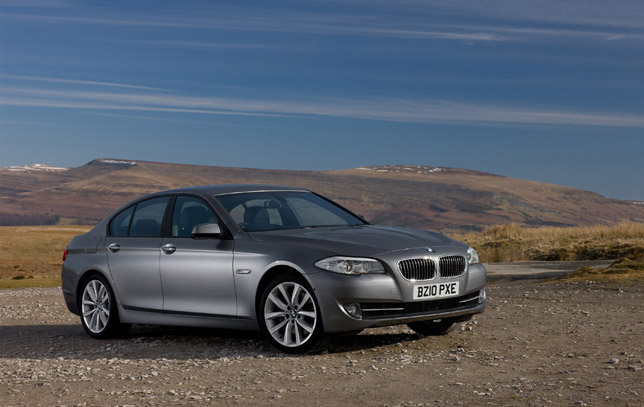 Source: BMW