BMW i8 Concours d'Elegance Edition To Be Auctioned At Pebble Beach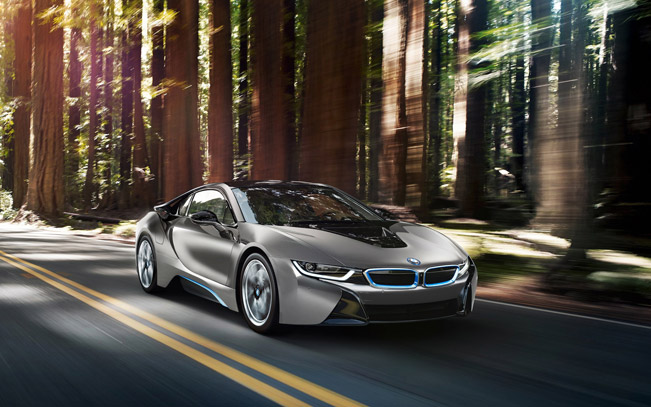 BMW i8 Concours d'Elegance Edition is going to be auctioned during the weekend of the 2014 Pebble Beach Concours d'Elegance on 16th of August. This will happen just before the US sale date scheduled for the fall. What differentiates this BMW from the rest i8 is the unique paint scheme and interior treatment, and also the additional features included. This means that it will be truly unique. The car will be sold by Gooding & Company, which is the official auction house of the Pebble Beach Concours. All of the gathered proceeds will go to the Pebble Beach Company Foundation.
Precisely, this one-of-a-kind car is distinguished by its BMW Individual Frozen Grey Metallic exterior paint. Inside, there is also unique interior, which boasts Dalbergia Brown leather upholstery tanned via color derived from plant extracts. Highlights of the upholstery feature stitching in BMW i Blue. Furthermore, the Pure Impulse Tera World interior includes other accents in the same color such as the seat belts.
There is also an embossed BMW i8 on the front headrests. Other unique features include laser headlights, pending government approval, a BMW i8 Display key and the first BMW Charging Station, professional edition. "Concours d'Elegance Edition" i8 will be also embossed throughout the interior.
BMW i8 is a plug-in hybrid vehicle which features an all-wheel drive powertrain that combines an electric motor driving the front wheels and 1.5-liter BMW TwinPower Turbo three-cylinder gasoline engine driving the rear wheels. The car can move only on electric power at speeds up to 75 mph for approximately 20 miles. And of course, in this mode it generates zero CO2 emissions.
When the gasoline engine works along with the electric motor, the i8 can accelerate from 0 to 60 mph in 4.2 seconds on its way to a top speed of 155 mph. The vehicle was constructed with an extensive use of lightweight carbon fiber reinforced plastic. The lithium-ion battery pack can be charged from any 240-volt level 2 charging station as well as a conventional 110-volt outlet.
Another excusive technology featured in the BMW i8 Concours d'Elegance Edition is the laser headlights. They generate a pure-white and extremely bright light. It will also be the first BMW in the United States to include a display key which features an integrated LCD touch screen.
Source: BMW