BMW i8 Concours d'Elegance Edition - Auctioned for $825,000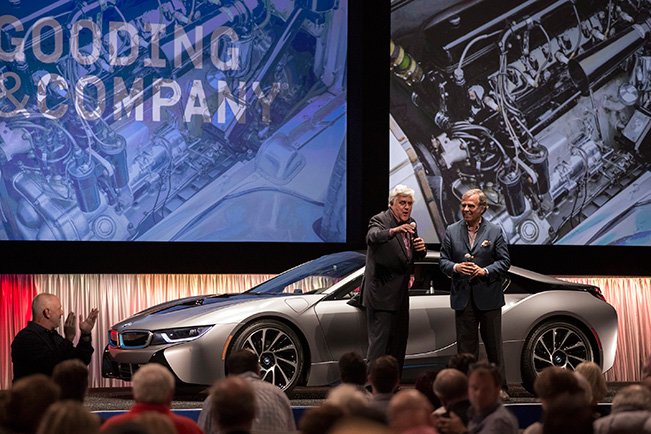 2015 BMW i8 Concours d'Elegance Edition has been sold for the breath-taking $825,000 at auction held during 2014 Gooding & Company's annual Pebble Beach Auctions. This is a world auction record price for a BMW i8. It actually equates around 6 times the recommended retail price of the model - $135,700.
The special edition model boasts BMW Individual Frozen Grey Metallic and a Dalbergia Brown leather upholstery. Other highlights include embossed headrests and of course "Concours d'Elegance Edition" badges.
2015 BMW i8 is powered by a 1.5 liter TwinPower Turbo three-cylinder engine, an electric motor and a lithium-ion battery.   The overall power is 362HP (266 kW) and 570Nm (420 lb-ft), which is enough for acceleration from 0-100 km/h in 4.4 seconds and a top speed of 250 km/h (155 mph) – electronically limited.
The fuel consumption is impressive – 2.1 liters / 100 km (134.5 mpg UK or 112 mpg US) with CO2 emissions of 49 g/km. The 2015 i8 can go up to 37 km (23 miles) only on electricity with zero emissions.
Source: BMW