BMW i8 Goes Into Production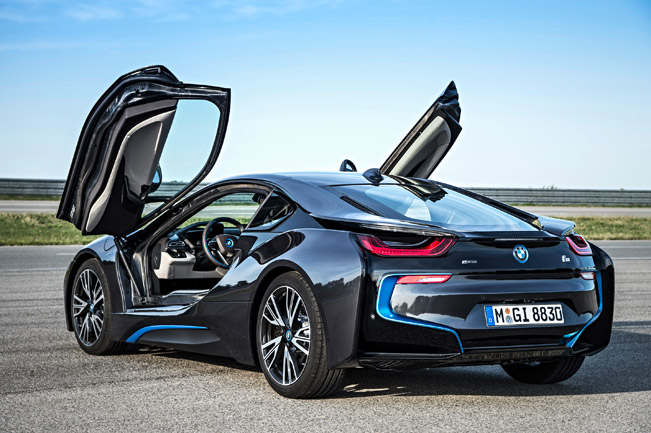 BMW will put the 2015 i8 in production and first deliveries are expected sometime in June, this year. The sports hybrid car is already exceeding the planned production volume during ramp-up. Furthermore, the specifications of BMW i8 are improved.
The drivetrain includes a 1.5 liter TwinPower Turbo three-cylinder engine, an electric motor and a lithium-ion battery.   The overall power is 362HP (266 kW) and 570Nm (420 lb-ft), which is enough for acceleration from 0-100 km/h in 4.4 seconds and a top speed of 250 km/h (155 mph) – electronically limited.
The fuel consumption is sensational – 2.1 l / 100 km (134.5 mpg UK or 112 mpg US with CO2 emissions of 49 g/km. What is more, the 2015 i8 can go up to 37 km (23 miles) only on electricity with zero emissions.
The curb weight of the vehicle is extremely low, too considering the electric motor and the battery pack – 1,485 kg and a drag coefficient (Cd) for a sports car of 0.26.
Last, but not least are the optional BMW laser headlights scheduled for autumn 2014. The model will become the world's first production car to offer this innovative lighting technology. BMW laser headlights are around 30 % more energy-efficient than the BMW i8's standard LED headlights and provide considerably more powerful road illumination, with a range of up to 600 metres. Highly concentrated beams of light from high-performance laser diodes act on a fluorescent phosphor material inside the headlight, which projects a sharply focused beam of light onto the road. The laser headlights produce a light similar to natural daylight and are therefore always easy on the eye.
Source: BMW