BMW M3 Wrapped by CAM SHAFT and More
A silver painted...sorry...wrapped BMW M3. It's the latest work from the German based Cam Shaft company. And it's not really silver if we have to be honest: "mat space-gray metallic" is what they've told us. The foil itself is from the brand Bruxafol and is described as Platinum Wrapping Film. All may sound like fancy talk, but underneath the Guerilla M3 (that's how they called it) is not what you call ordinary.
No, this M3 is a complex blend of custom parts that bring up some of the biggest names in the business. Take the front apron for example. It's from Racing Dynamics. The die sills are courtesy of Hamman Motorsport and the exhaust system comes from the guys at Akrapovovic. The whole car sits closer to the ground thanks to a variant 3 KW coil over kit and thus the 19-inch BBS-Le Mans wheels, which themselves are wrapped with 245/35ZR19 and 265/35ZR19 tires front and back, look as prominent as they can be. Even the interior has an additional touch of carbon and aluminum under the brand of Hartge.
It's nice to see that Cam Shaft are not all about the wrapping. Substance is what matters to us most and we can't complain about that here with the Guerilla BMW M3.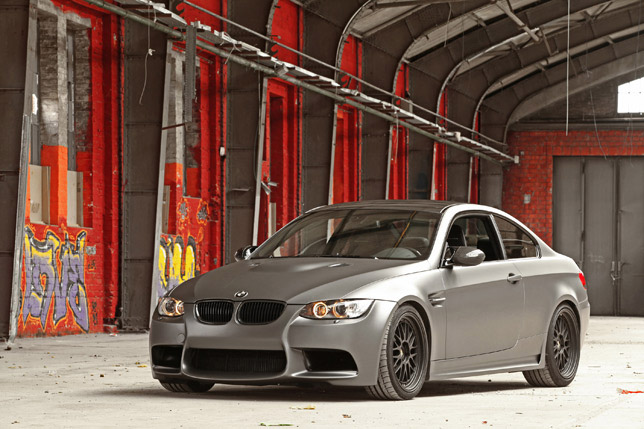 Source: Cam Shaft