Brabus 2013 Mercedes-Benz CLS Shooting Brake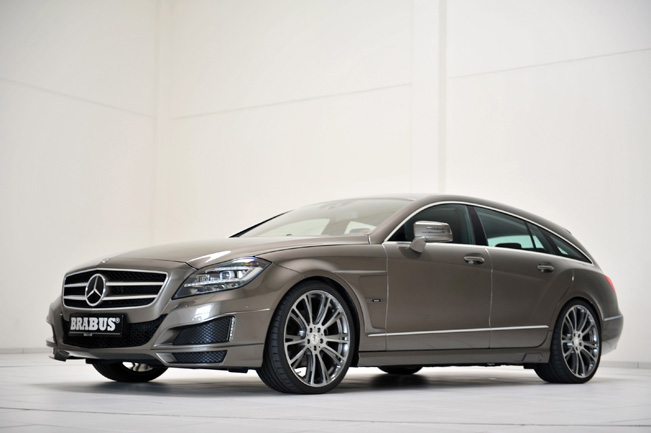 The new Mercedes CLS Shooting Brake has arrived! And like the first CLS that created a market for four-door coupes, the new five-door model redefines the sporty-elegant wagon. The exclusive final touch in the form of a sophisticated refinement program is now available from BRABUS.
The extensive product lineup starts with sporty-elegant aerodynamic-enhancement components for all Shooting Brake models with or without AMG sport package, and features custom-tailored BRABUS wheels with diameters of up to 20". Also part of the BRABUS portfolio are exclusive interior options and engine tuning that delivers up to 619HP (455 kW) of power, 1,000 Nm (737 lb-ft) of torque and a top speed of 320 km/h (200 mph).
Sporty-elegant styling paired with aerodynamic efficiency is the trademark of all BRABUS body kits. As always, the body components for the new CLS Shooting Brake were developed in the wind tunnel. They are manufactured from flexible Pur-R-Rim high-grade plastics or from carbon fibers depending on the version.
The CLS 250 and 350 CDI BlueEFFICIENCY diesel models and the CLS 350 and 500 BlueEFFICIENCY with production aerodynamics outfit can be upgraded with the BRABUS front spoiler, the BRABUS front fascia attachments with integrated LED daytime running lights, the sport fenders and the BRABUS side skirts with integrated entrance lights.
For vehicles equipped with AMG sport package BRABUS offers a striking BRABUS front spoiler lip that attaches to the underside of the front fascia. The CLS 63 AMG can be refined with an additional front spoiler and fender attachments with backlit BRABUS logo. Their clear-coated carbon-fiber construction lends the sport wagon full-blooded racing looks.
BRABUS Monoblock wheels in sizes ranging from 8.5J x 17" to 10.5J x 20" also play a major role in the exclusive BRABUS looks of the new CLS Shooting Brake. The OEM-quality alloy wheels are available in six different designs. The most exclusive version on offer features BRABUS Monoblock F, Q or R designs with a diameter of 20 inches. The latest addition to the wheel family is the BRABUS Monoblock R wheel with especially innovative design. Two sets of five double spokes are arranged in two plains. While the inner set of spokes is painted a "Liquid Titanium" shade, the outer spokes are diamond-polished and afterwards sealed with a smoke-colored clear lacquer, lending the wheel its very own character. The largest tires supplied by BRABUS technology partners Continental, Pirelli and YOKOHAMA for the 20-inch version come in size 255/30 ZR 20 in front and in size 295/25 ZR 20 for the rear axle.
The BRABUS suspension options are specifically calibrated to the use of sporty low-profile tires. They were developed in tandem with technology partner BILSTEIN. The lineup ranges from BRABUS sport springs to complete suspensions and the BRABUS suspension module that lowers the ride height of cars equipped with the semi-active AIRMATIC air suspension system by about 35 millimeters.
BRABUS offers the world's largest program of performance tuning for Mercedes-Benz automobiles. The ECO PowerXtra D4 performance kit bumps the power output of the CLS 250 CDI BlueEFFICIENCY by 31HP (23 kW) and boosts peak torque to 560 Nm (446 lb-ft).
For the CLS 350 CDI BlueEFFICIENCY there is BRABUS ECO PowerXtra D6S tuning. Thanks to its plug-and-play design the auxiliary control unit can be installed by any authorized Mercedes-Benz workshop and any BRABUS center of competence in less than 45 minutes.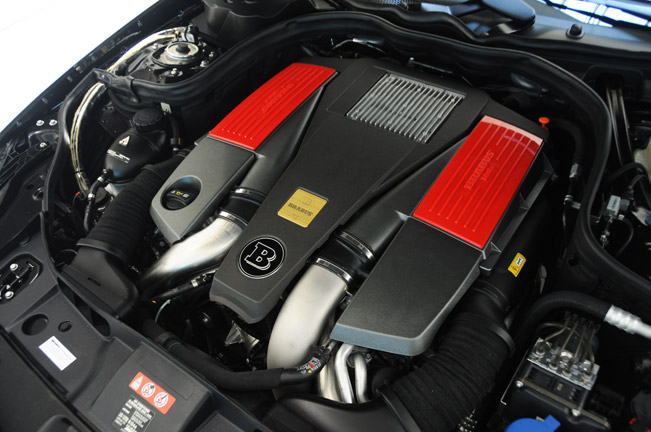 As a special feature this high-tech performance tuning system allows the driver to influence the power yield through the selection of the transmission program of the 7G-TRONIC PLUS automatic gearbox. In Eco mode only peak torque is increased, from standard 620 Nm to 690 Nm (509 lb-ft) between 1,600 and 2,400 rpm. This selection leaves the maximum power output unchanged. If sport mode is activated or gears are shifted manually, the increase in peak torque is accompanied by a boost in power output from 265HP (195 kW) to 313HP (230 kW) at a low 3,600 rpm. 0-100 km/h in just 5.9 seconds. Top speed is limited electronically to 250 km/h (155 mph).
It goes without saying that BRABUS performance tuning is also available for the gasoline-powered versions of the CLS Shooting Brake. The BRABUS B50 - 500 performance tuning was developed for the V8 Biturbo engine of the CLS 500 BlueEFFICIENCY. As the name indicates, this tuning kit produces  500HP (368 kW) and a peak torque of 720 Nm (531 lb-ft) and in conjunction with the BRABUS Vmax unit gives the wagon a top speed of 300 km/h (186 mph).
Two ultra-powerful tuning options are available for the top-of-the-line CLS 63 AMG model. Both BRABUS power upgrades for the 5.5-liter eight-cylinder Biturbo engine comprise an auxiliary control unit for the engine electronics and an additional water-to-air intercooler powered by an auxiliary electric pump. In both cases the lower temperature of the charge air benefits not only power yield but also engine longevity even under extreme operating conditions. After the installation of the BRABUS B63 - 620 version the driver commands 619HP (455 kW) of power at a low 5,500 rpms. Simultaneously peak torque grows from 900 to 1.000 Nm (663 to 737 lb-ft), on tap between 2,250 and 3,750 rpm. 0-100 km/h in 4.2 seconds and a top speed of 320 km/h (200 mph) that the car attains in conjunction with the BRABUS V/max unit.
As an ideal complement to the engine tuning, BRABUS offers a sport exhaust system with butterfly valve for the CLS 63. At the push of a button on the steering wheel the driver can switch between a discrete and quiet "Coming Home" mode and "Sport," which produces a decidedly sporty exhaust note. The stainless-steel exhaust system also adds some visual highlights with its two beautifully styled ceramic-coated dual tailpipes.
For all other CLS engines BRABUS offers fully stainless-steel quad sport exhaust systems. The precision-calibrated exhaust systems also optimize power yield and produce a sportier exhaust note.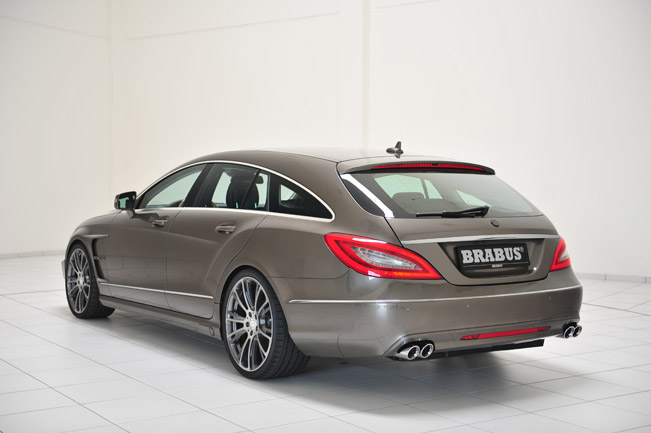 A BRABUS clutch-type limited-slip differential with a locking rate of 40% optimizes traction and handling in fast corners on all CLS versions.
All BRABUS engines are operated with MOTUL high-performance lubricants and like all BRABUS components are backed by the one-of-a-kind BRABUS limited tuning warranty of three years up to 100,000 kilometers / 62,000 miles (see BRABUS warranty conditions, updated November 2006).
Exclusive interior design that leaves nothing to be desired is yet another BRABUS specialty that comes to life in the company upholstery shop. The product lineup for the new Mercedes CLS Shooting Brake ranges from attractive accessories to custom-tailored interiors crafted from especially soft, breathable and highly durable BRABUS Mastik leather and Alcantara. Scuff plates with backlit BRABUS logo, a speedometer with 340-km/h or 400-km/h dial (211 or 250 mph) and the tables for the rear compartment that attach to the back of the front seats add sporty highlights as do decidedly sporty aluminum components such as pedal pads, door-lock pins and shift paddles for the steering wheel. High-end clear-coated carbon-fiber inlays for dashboard and center console in any desired color are also part of the program as are wood inlays in any desired color and with any desired grain.
To top it all off, BRABUS offers a custom-tailored multimedia concept for the five-door CLS - including the integration of an Apple iPad if desired.
Source: Brabus