Brabus 850 6.0 Bi-Turbo iBusiness based on Mercedes-Benz S63 AMG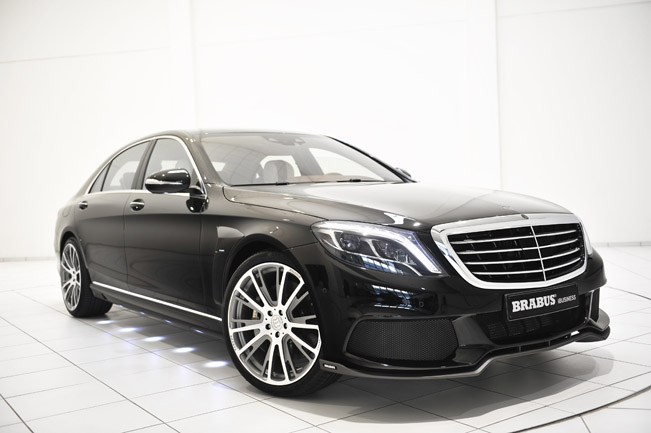 Brabus will exhibit its super-fast and super-powerful 850 6.0 Bi-Turbo iBusiness based on the new Mercedes-Benz S63 AMG at the 2013 Frankfurt Motor Show in few days. Brabus iBusiness comes with styling and performance upgrades, especially under the hood.
The 6.0 liter twin-turbo V8 is boosted to whopping 850HP (625 kW) at 5,400RPM and 1,150Nm (848 lb-ft) of torque at 2,500RPM. 0-100 km/h in 3.5 seconds and a top speed of 350 km/h (217 mph). The result is thanks to enlarged displacement (by 0.5 liters), two bigger turbochargers, forged pistons, a billet crankshaft, a larger air filter box, a stainless steel sports exhaust system and an optimized ECU.
The exterior boasts a complete aerodynamics package including new front and rear bumpers, a pair of modified side skirts, carbon fiber fender vents and a rear diffuser. There are also carbon-ceramic brakes and an electronic lowering module, which can reduce the ride height by 15mm. The big saloon rolls tailor-made BRABUS Monoblock alloy wheels with diameters of 19", 20", 21" or even 22".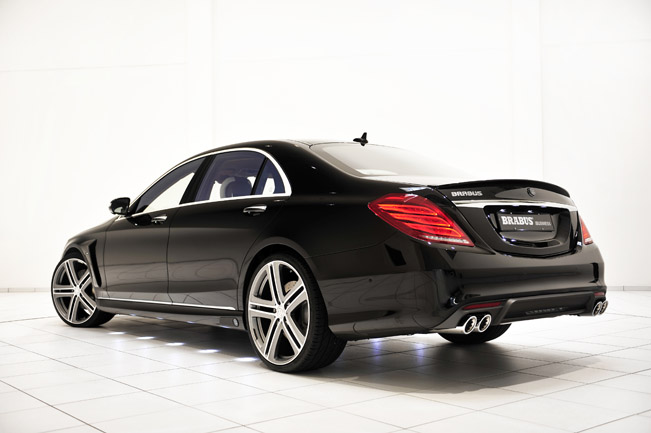 The BRABUS Monoblock G "Platinum Edition" forged wheels feature a combination of size 9J x 22" wheels and size 255/30 ZR 22 tires on the front axle with size 10J x 22" wheels and size 295/25 ZR 22 tires in back, and make full use of the available space below the wheel arches.
The interior features an iPad mini, an iPod touch, a Mac mini and an Apple TV (iBusiness).  Other highlights include premium leather upholstery, a mobile hotspot and a custom rear center console. There are also a 15.2" TFT display, a rear seat entertainment system and fiber optic lights that are mounted in the leather headliner.
The BRABUS 850 6.0 Biturbo "iBusiness" is built to order. The multimedia system and all other BRABUS tuning components are available for all current S-Class models. BRABUS engine tuning is also available for all other engine variants.
Source: Brabus