Bradford city centre comes to a standstill as British icon runs once again
The streets of Bradford came to a standstill - on Sunday 19th July - to allow a 20-year-old Jaguar racing car that won the famous 24-hour race at Le Mans to run once again.
Thousands of people turned out to welcome the iconic 1988 Jaguar XJR-9LM from the Jaguar Heritage museum in Coventry as it took to the streets, as part of the Bradford Classic Car show. The XJR-9LM led a parade of Jaguars into Centenary Square, watched by thousands of stunned onlookers.
About 25,000 people were estimated to have attended the Bradford Classic over the weekend, making it one of the fastest growing and most popular free summer city events in Yorkshire. In a motoring first for the UK, four famous Le Mans cars from Aston Martin Racing, Jaguar Heritage and Ginetta went on display as the Bradford Classic show this year celebrated the famous Le Mans 24-hour race, while the National Media Museum hosted the UK's first motoring mini-film festival (sponsored by Octane magazine), "Wheels on Reels".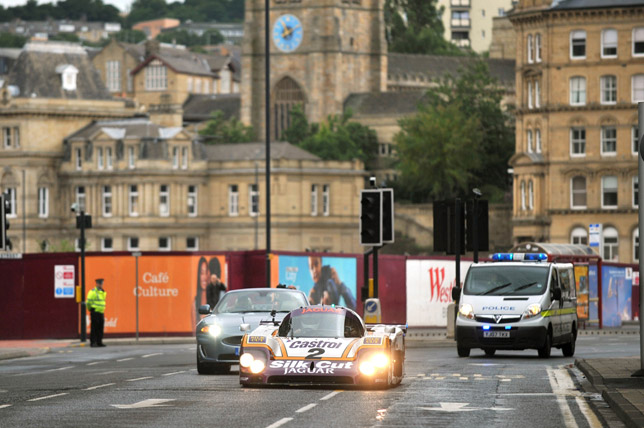 "This was a very special weekend for car fans in Yorkshire and the North of England", said Councillor Kris Hopkins. "Each year we have tried to build the show and this year has been the best yet. Bradford and the surrounding area are famous for manufacturing cars with companies like Jowett and Ginetta. It is also world famous for its association with film which has recently been recognised with the special UNESCO City of Film award".