BTCC: Donington Park race
James Nash is the new leader in Dunlop MSA British Touring Car Championship. Droitwich's Neal won yesterday's first race with his turbocharged Team Honda Racing Civic. . Second and third were the Vauxhall Vectras of Pirtek Racing's Jordan and 888 Racing with Collins Contractors' Nash.
Jason Plato crashed his Chevrolet Cruze, when he went off the track at 193 km/h (120mph). The car stroke a barrier and rolled three times. It is a pure miracles for Plato, who got out of the car unharmed. However, the Cruze was destroyed in seconds.
"It was amazing. It looked an impossible task and the car looked like a Transformer. But the lads were just amazing – you could see the passion in everybody." commented Jason.
"They're the best racing team in the world, forget F1. That was teamwork. I had tears in my eyes, they had tears in their eyes and to see their commitment makes up for all the bad weekends we'll ever have. There was real emotion out there today.", he added.
Still, in just 90 minutes, RML crew had repaired the car and Jason Plato rewarded them with an emotional 6th place.
There were a lot of punishments, too.
- Race 1, Andy Neate, officially reprimanded and 2 penalty points on his competition licence; - Race 2, Tom Chilton and Gordon Shedden, both officially reprimanded and 2 penalty points; - Race 3, Dave Newsham, fined £500 and 3 penalty points & James Nash, 2 penalty points.
Check out the results, below!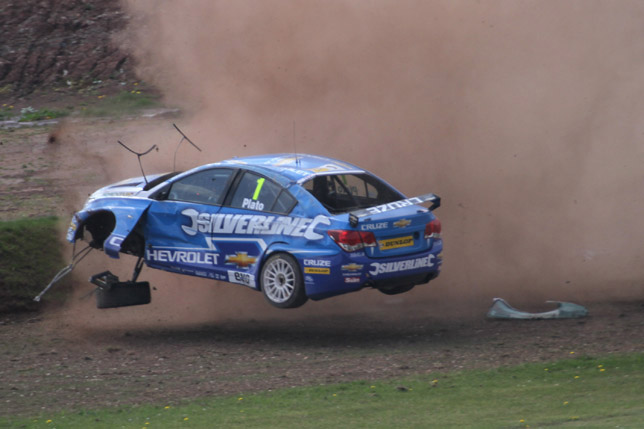 2011 Dunlop BTCC Drivers' Points after Donington Park (round 2 of 10):
1. James Nash, 59 2. Matt Neal, 55 3. Mat Jackson, 54 4. Andrew Jordan, 45 5. Jason Plato, 43 6. Tom Chilton, 32 7. Gordon Shedden, 30 8. Paul O'Neill, 26 9. Alex MacDowall, 19 10. Robert Collard, 17
Manufacturers/Constructors' Points:
1. Honda/Dynamics, 107 2. Chevrolet/RML, 106 3. Arena/Ford, 83
HiQ Teams' Points: 1. Honda Racing Team, 78 2. 888 Racing with Collins Contractors, 66 3. Silverline Chevrolet, 59 4. Airwaves Racing, 54 5. Pirtek Racing, 53 6. Team Aon, 32
Independent Drivers' Points: 1. James Nash, 71 2. Mat Jackson, 67 3. Andrew Jordan, 50 4. Tom Chilton, 44 5. Paul O'Neill, 40 6. Robert Collard, 27
Independent Teams' Points: 1. 888 Racing with Collins Contractors, 71 2. Airwaves Racing, 68 3. GoMobileUK.com with tech-speed, 46 4. Team Aon, 44 5. WSR, 37 6. Geoff Steel Racing, 15
*All points remain provisional
Source: BTCC