Buick Regal Lineup with Drivetrain Changes
On the new Buick Regal GS will be new automatic transmission and eAssist as a standard, thus making the evolution of Buicks' Sport Sedan happening. More importantly, the vehicle with the new automatic transmission is already in dealerships. The famous eAssist fuel efficiency technology is also included and as you already understood, it also comes as a standard. The Regal was recently named by the U.S. News and World Report as the "Best Upscale Midsize Car for Families" and as the "Best Car for the Money".
But what about the other changes included in the 2013 Regal GS Model. The 270 hp (198 kW) of the car come from the powerful turbocharged 2.0L Ecotec engine, which was by the way one of WardsAuto World's 2012 "10 Best Engines" for North America. More importantly, it now can be controlled through a second transmission, which is a six-speed automatic with Driver Shift Control. It also comes as a standard choice.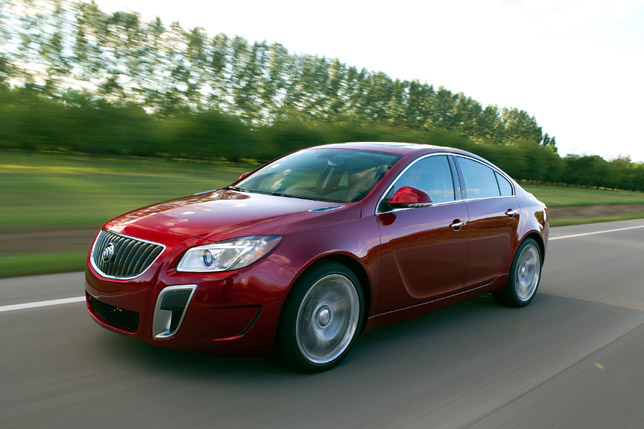 In addition the new Aisin AF40 automatic is calibrated specifically for the model. It includes the car's Interactive Drive Control System set to "GS" mode. Hence, the transmission delivers firmer shifts and aids performance. The acceleration from 0 to 100 km/h is in only 6.7 seconds. Furthermore the EPA-estimated fuel economy is 19 mpg city and 27 mpg on the highway. This is due to the standard performance components like Buick's innovative HiPer Strut front suspension and Brembo front brake calipers.
What is more, the eAssist will be a standard on all 2013 Regal vehicles. More importantly the eAssist uses a compact lithium-ion battery pack and a small electric motor to aid the performance of a fuel-efficient 2.4-liter gas engine. The system provides an electrical boost to aid the engine at low speeds and on inclines where fuel efficiency can suffer most. Therefore it is possible for the Regal with eAssist to achieve the EPA-estimated 36 highway mpg, which is equal to the performance of some hybrid vehicles. In addition, the eAssist became standard for the larger LaCrosse luxury sedan and at the same price as the V6, thus gathering even more popularity.
Pricing and an on-sale date for the 2013 Regal with eAssist will be announced later this year.
Source: Buick