Buick Verano comes to Europe under the disguise of 2013 Opel Astra
2013 Opel Astra Sedan is a notchback based on the GM's Delta II platform. It was designed initially in US and Asia and at first was included in the Buick Excelle GT and then in Buick Verano. Now, the platform is going to be included in the Atra line-up whixh is scheduled to go on sale in Europe later this month.
The new Opel model is going to be offered with literally a wide range of engine choices. In fact, seven powerplants are going to be available at launch. The gas engines included are four and their horsepower range is from 100 to 180 (74 to 132 kW).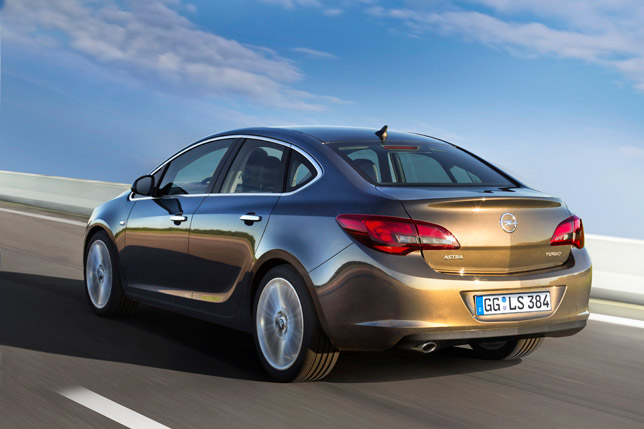 On the other hand the three diesel engines will deliver a power range from 95 to 130 hp (70 to 69 kW) and will feature the two ecoFLEX motors with Start/Stop technology. The seventh engine is also a gas one, and namely is the 1.6-liter turbochared, direct-injected SIDI Ecotec.
The Astra line-up consists of the new four-door sedan, the five-door hatchback, the Sports Tourer station wagon and the racy GTC coupe. The new Astra notchback sedan (Length/Width/Height: 4,658/1,814/1,476 mm) has a wheel base of 2,685 mm which means that it provides a generous interior space.
In addition it has a separate trunk, which offers 460 liters of volume. By folding the 60:40 split rear bench flat the luggage volume can be increased up to a maximum of 1,010 liters.
As you can see the new Astra has a very stylish and sleek silhouette, which is thanks to the well-balanced and harmonious automotive design. In addition, the new Astra includes a large array of technological highlights: Advanced Forward Lighting (AFL+) with bi-xenon headlamps, the adaptive FlexRide chassis system, the highly ergonomic AGR ("Aktion Gesunder Rücken e.V"), navigation system Navi 900 top unit, etc.
Source: Opel via Autoblog