Cadillac works on 2016 CTS-V model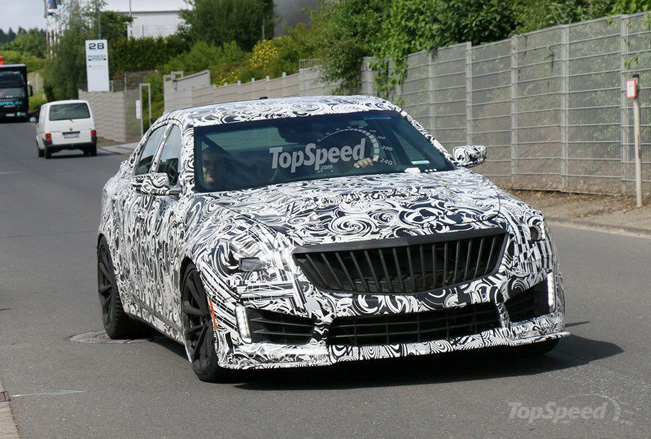 The Cadillac CTS-V has been around for nearly 10 years now. Launched back in 2004 as a high-performance version of the CTS sedan it targeted other fast cars such as the BMW M5 and the Mercedes-Benz E63 AMG. Coming at first with a powerful 5.7-liter LS6, V8 engine for 400 HP (294 kW) of power and 395 lb-ft (535 Nm) of torque, the Cadillac CTS-V was upgraded in 2006, receiving a 6.0-liter LS2 engine with the same power but a better torque range. More changes were applied in 2008 with the second generation Cadillac CTS-V. This time the car had a supercharged 6.2-liter V8 engine that produced 556 HP (409 kW) of power and 551 lb-ft (747 Nm) of torque.
Now Cadillac CTS-V fans will get to see and experience the third generation of this muscle vehicle. The new car is based on the brand-new CTS sedan and has a redesigned exterior and a larger interior, while at the same time bringing more power, newer technologies and less weight.
The new Cadillac CTS-V comes with one important change so we chose to start with it. The new generation will be an attempt by Cadillac to better differentiate its high-performance models from standard ones and the CTS line will be the first one to benefit from this change. The first change is that the grille of the car no longer resembles the one of a standard 2014 CTS. The new one is both wider and shorter and comes with an entirely new design. The bumper is also different and larger intakes replace the more stylish cutouts in the regular CTS. In addition the vehicle is expected to be even more aerodynamic and there will be air vents on the hood that suggest there's a force-fed V8 engine inside the car.
As to engines there's little information but we do know that the new 2015 Cadillac CTS-V line will come with at least one V8 gasoline engine that will produce around 600 HP (441 kW) and 580 lb-ft (786 Nm) of torque.
Just like before the main targets of the Cadillac CTS-V will be the 2014 BMW M5 and the current Mercedes-Benz E63 AMG. Both cars are slightly more powerful than the Cadillac CTS-V but sell for around USD 90 000 and more, which is a disadvantage when compared to the 2015 Cadillac CTS-V – a car that is expected to sell for around USD 70 000.
(picture courtesy of TopSpeed)
Source: Topspeed