2012 Cam Shaft Renault Clio Eyecatcher delivers 200 horsepower
2012 Cam Shaft Renault Clio Eyecatcher is the latest model, modified by the German tuning company Cam Shaft.
The vehicle is based on the motor sport model of Renault Clio 200 Cup. It comes with an optimized two-liter engine and thanks to it the car can surf usual streets with 200 hp (147 kW).
In addition, it is with 1,800 up to 2,000 ccm of cubic capacity.
The tuners from Cam Shaft have installed KW suspension of the Variant 2, which comes with racing sport bearings and discs. The brake lining is produced by EBC Brakers.
The K&N sport air filter fulfils its task in the engine house. In addition, the Akrapovic Evolution exhaust system produces great sound. Furthermore, the Alleggerita HTL OZ rims match Clio in perfect way. And in the interior has been installed Evo seats and steering wheel by Sparco.
But probably the most "eye-catching" thing about this model is its outer skin.  And here the tuners from Cam Shaft have done their best.
The Clio got a complete orange foil coating. Moreover, it also has hundreds of black patterns on the top and on the parts of the engine hood and fenders. And as you can see, in specific places the color flows in uncontrolled streams.
The secret of Cam Shaft is that they used the Platinum Wrapping Film by Bruxafol.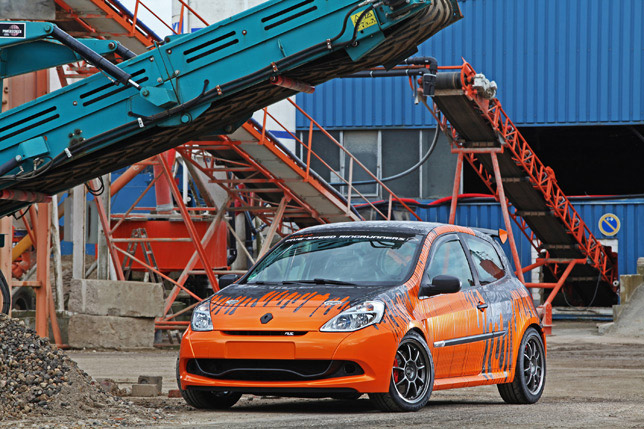 Source: Cam Shaft