Capristo Lamborghini Aventador Carbon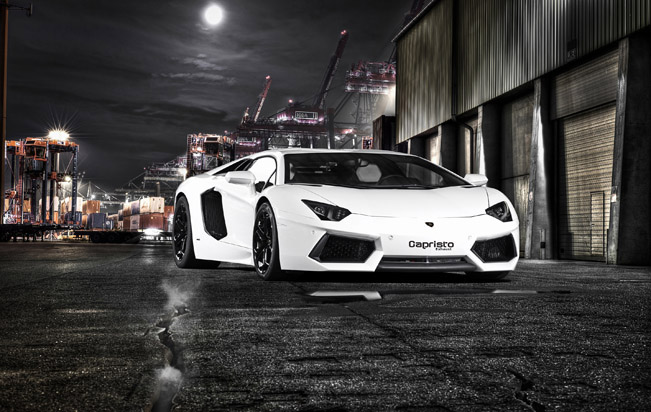 Capristo Exhaust Systems has announced their latest project based on Lamborghini Aventador.
LP700-4 is powered by a 6.5 liter V12 with 700PS (515 kW) and 690Nm (509 lb-ft). The engine is coupled to a 7-speed ISR gearbox specially supplied by Graziano Trasmissioni Group. The shift time is just 50 milliseconds. The power is put on the road through a Haldex AWD system. 0-100 km/h in 2.9 seconds and a top speed of 350 km/h (217 mph).
The gross weight of the vehicle is 1575 kg (3472 lbs).
This makes Aventador LP700-4 one of the fastest cars on the planet not only in straight line, but at the racetracks, too.
However, this is not enough for Capristo, so with their specially prepared exhaust system, the car is even faster - 1/10th of a second faster than before – 2.8 seconds to 100 km/h and 3 km/h more to the top speed - 353 km/h (219 mph).
Even more pronounced of exchanging plastic components with 100% carbon-fiber one. The overall weight is reduced by 40kg, which mainly affects power-to-weight ratio.
Source: Capristo