2012 Chevrolet Camaro 2SS Convertible Geiger Compressor
A real beast is going to be released in the forthcoming 2012, namely the brand new Chevrolet Camaro 2SS Convertible Geiger Compressor! It comes with the astonishing 568 kW PS/418 from a powerful 6.2-liter V8 with a supercharger kit under the hood! This upgraded Camaro Convertible 2SS with Geiger Kompressort Kit delivers unique mix of power and freedom. Moreover it now offers V8 sound created by the Munich American car specialists. The new and improved vehicle is, in comparison to its ancestors, with significant power increase as well as extensive additional equipment - all of course TÜV. For superior performance regardless of high revs, high torque of the tuned by Geiger Camaro 2SS: min Legendary 779 Nm at 4,100 rpm/.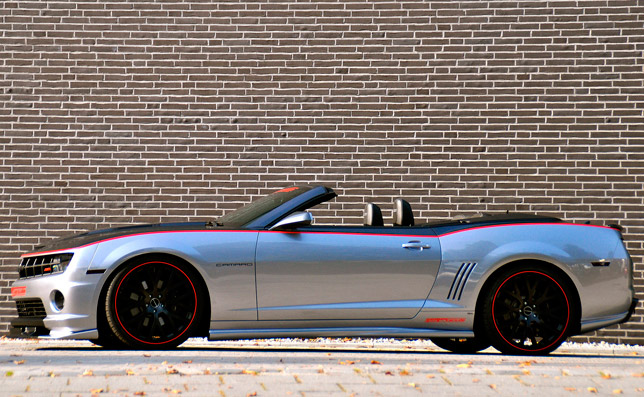 The whole 568 horsepower (405 kW) you can get at the price of 90,000 euros for the 2SS. In addition the model is characterized by a unique violinist compressor price-performance. Moreover this high-quality equipment version of the Geiger-compressor-kit includes: Geiger wheels in 10 x 22 inch with tires in size 265/30/22 and 295/25/ZR22 rear, an adjustable sport suspension with stabilizers on front Geiger and rear axles, Geiger sport exhaust system, Geiger aerodynamic-enhancement kit with front spoiler, side skirts and rear diffuser as well as special paint. All this comes with an ample standard equipment including leather, xenon headlights, parking assistance, rear camera, head-up display, on-board computer, extra ads (oil and transmission temperature, battery voltage, oil pressure) , dimming exterior mirrors, electrically adjustable and foldable, and Boston Premium Hi-Fi sound system (MP3, CD, Bluetooth-enabled).
The prices for the 2012 Chevrolet Camaro 2SS Convertible start from 43990 Euro. Moreover there is being offered Geiger individual finishes such as: decorative design of your choice (price from 500 Euro), metallic paint (for 800 Euro), additional premium paint (for 1000 Euro), numerous individual special leather interior, sports seat, navigation and sound system.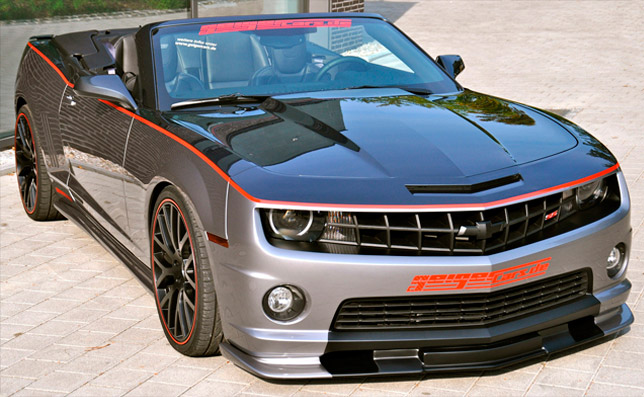 Specifications 2012 Chevrolet Camaro 2SS Convertible Geiger Compressor: Engine: 6.2-liter V8 with Geiger-compressor kit Power: 568 kW at 6250 rpm PS/418 kW / 772 HP/ 568 HP Torque: 779 Nm at 4,100 U / 575 lb-ft / Consumption (combined): 12.8 l/100 km Price: From € 84 900
Source: Chevrolet