The new modern incarnation of Chevrolet Camaro
There no other muscle car like Detroit muscle one. A modern and brand new incarnation of one of the greatest muscle cars of all time Chevrolet Camaro is going to reach the dealerships in the U.S. and UK.  The prices for the Coupe start at £34 995 and for the soft-top Convertible model start at £39 995. In the new Camaro are featured all of the attributes that made the original muscle cars famous. That automatically means – great performance, stunning looks and incredible value for money. An additional model, next to the coupe and the cabriolet, there is also offered a limited one – namely the the 2012 45th anniversary Camaro. The vehicle is finished in striking Carbon Flash Black with bespoke red and silver anniversary stripes, dark silver 20-inch alloys, a unique 45th anniversary leather interior with red, white and blue stitching and a one-off white-backed instrument panel. It's priced at £36 495 for the Coupe or £41 495 for the Convertible. And it will go on sale only for limited time.
All offered models have six-speed manual gearbox. However, they are also available with six-speed automatic transmission. The power of the car comes from its 6.2-litre V8 engine, which delivers the 432PS (317 kW). The new Camaro accelerates from 0 to 100 km/h in only 5.2 seconds. All Camaros have an electronically limited top speed of 155mph.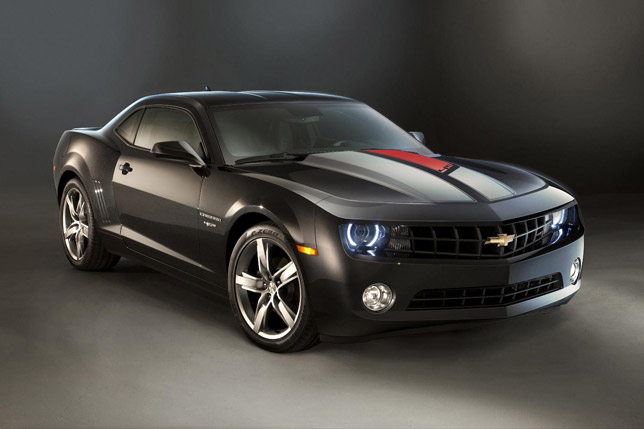 Source: Chevrolet