2014 Chevrolet Cruze Clean Turbo Diesel With Featured Overboost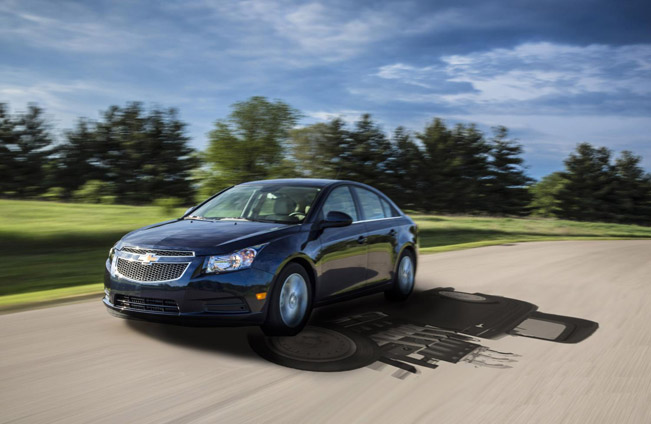 2014 Chevrolet Cruze Clean Turbo Diesel will now offer to its customers quick off-the-line acceleration and at the same time which is combined with great fuel efficiency. This is possible thanks to the utilization of a turbocharging feature called "overboost".
The vehicle uses a diesel turbocharged 2.0L engine which generates 151 horsepower (113 kW) and 264 lb-ft of torque (358 Nm). However, the afore mentioned overboost enhances the torque up to 280 lb-ft (380 Nm) for about 10 seconds of stronger acceleration. That's the equivalent torque generated by the 1972 Camaro Z28's heavier 5.7L V8.
Despite the performance and unlike the muscle car era, the new Cruze Diesel has impressive fuel economy of a 46 mpg highway, and demonstrates a range of 717 miles on one tank of fuel. As a matter of fact, the overboost provides increased performance and thanks to it this Chevrolet sprints from 0 to 100 km/h in only 8.6 seconds.
The fuel economy on the other hand is achieved via greater thermal efficiency, a higher compression ratio and an unthrottled combustion process, as well as iron cylinder block and a forged steel crankshaft. The last two features are designed to stand up to the greater cylinder pressures that come with a turbo-diesel engine.
A lightweight aluminum cylinder head and aluminum intake manifold are responsible for unit's ability to offer balanced ride and handling. All in all, Cruze's turbo-diesel engine is powerful, efficient and clean and it aims to change the perceptions of what a diesel car can be.
Source: Chevrolet