2014 Chevrolet Malibu Delivers More Roominess
2014 Chevrolet Malibu has been unveiled and it comes to offer to its customers more space, refinements and efficiency. It includes an updated styling and interior, as well as new 2.5L standard engine and suspension enhancements.
To be more precise, the new and enhanced features include a revised front-end appearance, a roomier rear seat with 1.25 inches (31.7 mm) more knee room, a redesigned center console, a new 2.5L engine with variable valve lift control and start/stop technology with estimated fuel economy of 23 city / 35 highway, more torque from the available 2.0L turbo engine - 295 lb-ft (400 Nm), suspension enhancements, Side Blind Zone Alert and Rear Cross Traffic Alert safety features.
The new front-end of the model is influenced by the Impala, and it includes more prominent lower grille and the hood. The latter extends down and over the leading edge of a narrower upper grille which in turn features openings – with black grille texture.
The interior of the car features redesigned seats in order to bring about more roominess for the occupants and of course – greater comfort. In addition, the center console has been redesigned and now has a longer armrest, cup holders and dedicated storage for two cell phones.
In terms of efficiency, there has been made some improvements as well. As a standard this new Chevrolet will be equipped with the Ecotec 2.5L Intake Valve Lift Control DOHC four-cylinder engine with direct injection. Its variable intake valve actuation brings about better efficiency and helps lower emissions. At the same time it also enhances the low-rpm torque.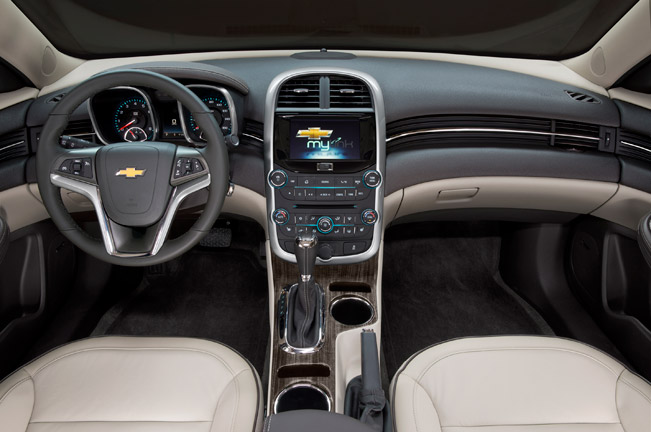 What is more, there is also featured a new start/stop technology which shuts down the 2.5L engine in order to save fuel when the Malibu stops momentarily. Another technological advancement is the auxiliary battery that powers the electric accessories such as the climate system, power windows and radio during engine restarts.
The new 2.5L unit produces 196 horsepower (145 kW) and 186 lb-ft of torque (253 Nm). There is also available the optional 2.0L turbo engine which generates 259 horsepower (193 kW) and 295 lb-ft (400 Nm) of torque.
The designers of the new 2014 Malibu have worked also to refine the chassis in order to deliver better driving experience. The new rebound springs that are internal to the struts enable more refined calibration of the dampers for a smoother overall ride, while also enhancing body roll control and weight transfer during acceleration or turning.
The additional chassis control technologies feature the following: four-channel anti-lock brakes, full-function traction control, four-corner electronic stability control, electronic brake force distribution, brake assist system, corner brake control, hydraulic brake fade assist and drag torque control.
At last, the other optional safety features offered here include the New Side Blind Zone Alert and Rear Cross Traffic Alert. Malibu also comes with 10 standard air bags and an available rearview camera system. 2014 Chevrolet Malibu goes on sale this autumn.
Source: Chevrolet