Chevrolet Malibu (2014) With Included Stop/Start Technology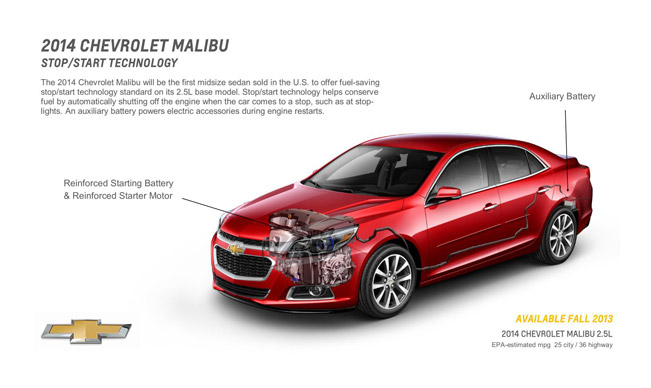 2014 Chevrolet Malibu will be going on sale this autumn and will be equipped with fuel-saving stop/start technology. The latter will be standard on the 2.5L base model. Thanks to it the Malibu shows an EPA-estimated 25 city and 36 highway mpg fuel economy.
This means that the stop/start technology will improve the fuel efficiency of this Chevrolet model by automatically shutting off the engine when the car comes to a stop. The engine automatically restarts when the driver takes their foot off the brake.
An auxiliary 12-volt battery is utilized during restarts in order to power electric accessories like the heating and air conditioning, power windows and radio. In addition, the same technology monitors car's speed, climate control system and also determines whether it is efficient to shut off the engine in certain driving conditions.
Furthermore, a valve-actuation technology which is familiar as Intake Valve Lift Control is incorporated into Malibu's 2.5L engine. This system also improves the fuel efficiency and operates in low-lift mode. This means that the engine pumps only the air it needs to meet the driver's demand.
When it is in high-lift mode in cases of higher speeds or under heavy loads, it delivers the full output of the engine. What is more, the variable intake valve actuation also helps lower emissions.
The engine is coupled with a six-speed 6T45 transmission that includes refinements in order to minimize the energy required to pump transmission fluid and also contributes towards additional fuel economy savings.
The additional new features on the 2014 Chevrolet Malibu include a revised front-end appearance, roomier rear seat with 1.25 inches (31.7 mm) more knee room, redesigned center console, suspension enhancements, Side Blind Zone Alert and Rear Cross Traffic Alert safety features as an option.
The new Malibu will be available in three grades: LS, LT and LTZ. The base model will be equipped with 2.5L engine powertrain and it will have a starting price of US $22 965 for the LS, US $24 335 for the 1LT, US $26 040 for the 2LT and US $28 515 for the top LTZ trim.
Source: Chevrolet