Chevrolet's Four Brazilian Concepts May Preview Production Models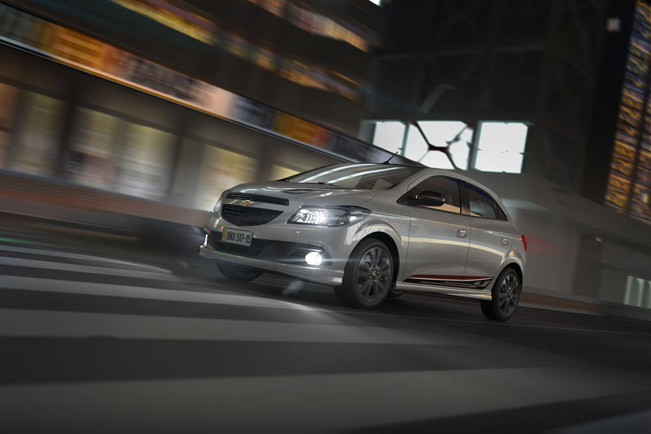 They are four and they have all been just exhibited at the Sao Paulo auto show. If you already have heard about them, we are hinting at Chevrolet's four new concepts. It is not official, but we can say that some of them might enter production soon and we are very excited about it. Just take a look at them and you'll know why. The fleet of vehicles displayed in Brazil features the following concepts: S10 High Country, Onix Track Day, Onix Effect and Cobalt.
First, the S10 High Country has received a number of equipment features such as headlamps and dark chrome 18-inch wheels with unique finish, chrome trim at the base of the windows and a unique Red Chili exterior paint finish.
Inside, the car is based on the 2015 Trailblazer. This means that it includes leather upholstery in two colors, with the predominant Brownstone and stitching in the same color. The panel comes with glossy black finish.
Next is the Onix Track Day Concept which evokes thoughts of spectacular performance. Just bear in mind the completely modified mechanical, suspension, engine brakes and exhaust system. Under the hood of this car is the Ecotec 1.8 Flex, which produces around 150 horsepower (110 kW).
Other highlights here also include 215 / 45 R17 new front and rear spoilers that contribute to better aerodynamics, and of course the eye-catching bright yellow paint of the bodywork. The latter has received as a contrast exclusive artwork and dark ceiling. Inside, the interior brings shell type seats, "flat base" steering wheel coated with noble materials, four safety belts and other exclusive finishing details.
Onix Effect is the third concept exhibited at the show. It is based on the same model as the previous car and also offers a sporty look. On the outside, the Onix Effect differs mainly by dark the 15-inch wheels and the aero package. The kit comprises of skirts and spoilers, headlights and taillights with "smoked" details.
Glossy black finish covers the ceiling, B columns, external mirrors and the frame of the front grille. There are stickers on the hood, sides and tailgate, which contrast with the white paint of the bodywork. Inside, the concept gets multi-function steering wheel, red satin elements, embroidered carpets and new instrument panel. Here the powertrain is the Onix LTZ 1.4, developing 106 horsepower (78 kW).
At last, the Chevrolet Cobalt is a sedan which runs on Spin Active 16-inch wheels. It features dark chrome radiator grille with glossy black details. Dimmed lights, rear bumper bar also in dark chrome and adhesives column in black high gloss complements the exclusive painting "Glory Red".
The interior in the case of Cobalt features "Jet Black" dashboard, doors and carpet. Dark leather seats are also there ad they can show off with stitching and embroidery in light gray, giving a special touch of elegance and sophistication to the concept.
Source: Chevrolet