2012 Citroen C4 AIRCROSS SUV
Citroën is expanding its range with a new vehicle named 2012 Citroën C4 AIRCROSS, which is a fresh take on conventional compact SUV design. The new Citroën C4 AIRCROSS will make its world debut at the Geneva Motor Show in March this year. The new vehicle speaks loudly about its new styling - the Citroën C4 AIRCROSS combines the elegance of brand saloons with the more muscular lines of an off-roader. When one looks it from the front, one sees the wide chrome grille displaying the chevron badge, giving the vehicle a strong identity. Viewed from the side one sees a chrome compass, identifying this car as a member of the Marque's SUV family. This SUV sits on wide 18-inch alloy wheels and has rear lights, inspired by the Citroën C4 hatchback and Hypnos concept car. This was made in order to optimize air flow and cut CO2 emissions. Of course, the designers of Citroen have put a lot of attention on the details, thus making it delivering even more style and efficiency. At the front, for example, the daytime running LED lights are integrated vertically into the aerodynamic vents. In addition, the door mirrors have built-in indicator repeater lights, while the rear light clusters feature light guides. Another interesting instance is that a rearview camera is concealed in the chrome trim of the tailgate.
The 2012 Citroën C4 AIRCROSS has a brand new new-generation four-wheel drive transmission, which will make the drive even more enjoyable. This is an innovational technology, which takes in account the driver input, road conditions and vehicle speed, and thus distributing torque optimally between the front and rear wheels at all times. This system also minimizes fuel consumption by using low-viscosity oil in the transfer box. Depending on the driving conditions, customers can select one of three possible transmission modes using a control behind the gear lever: a 4-wheel drive (4WD) mode, which automatically distributes torque between the front and rear axles; a "Lock" mode, which maximizes traction in extreme conditions, increasing the torque transmitted to the rear wheels by 50% compared with 4WD mode; and a 2-wheel drive (2WD) mode, which minimizes fuel consumption by reducing the number of moving parts (only the front axle is engaged).
The new Citroën C4 AIRCROSS ranks among the best in its segment for low CO2 emissions. We are speaking here about the model with HDi 115 engine, which is mated to a six-speed manual gearbox. In a 2-wheel drive version it emits just 119 g of CO2/km and in 4 wheel drive version emitting just 129 g of CO2/km. This 1.6 litre engine delivers 115 hp (85 kW) for maximum torque of 270 Nm (199 lb-ft) from 1,750 rpm, and up to 280 Nm (207 lb-ft) with the temporary overboost function. There is also a 1.8 litre engine included in the lineup, which is the only diesel on the market to feature variable valve timing, which gives it a lower compression ratio (14:1) than any other diesel engine. The 1.6 litre engine features a double overhead camshaft, 16 valves and variable valve timing. It combines high standards of performance with low emissions, developing 115 hp (85 kW) for CO2 emissions of just 135 g/km.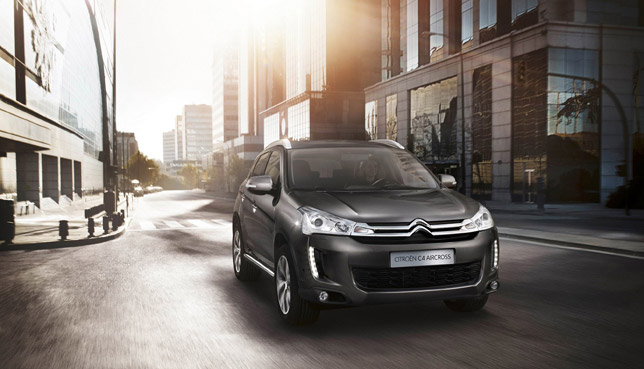 There is also a 150 hp (110 kW) 2.0i petrol engine included in the lineup. It has a five-speed manual gearbox or continuously variable transmission (CVT). It also includes 16 valves, an aluminium cylinder block and variable valve timing. All these engines feature technologies designed to cut CO2 emissions: Stop&Start technology; an electronically controlled alternator that recovers energy during braking and deceleration; electric power steering that consumes energy only when the steering wheel is turning.
The new Citroen model offers compact dimensions. It is 4.34 m long, 1.80 m wide, 1.63 m tall. Moreover the Citroën C4 AIRCROSS is surprisingly spacious, with a cabin worthy of the next class up. With five seats and a boot volume of 442 litres, it is very convenient for everyday use. Furthermore, to enhance the joy from driving, the Citroën C4 AIRCROSS is fitted with MacPherson type front suspension and a multi-link set-up at the rear. It also offers an great safety level by combining driving aids such as ESP with skid control ABS, electronic brakeforce distribution, hill-start assist.
What about the new design of the exterior? First of all the new 2012 Citroën C4 AIRCROSS features a large glazed panoramic sunroof with UV protection and a one-touch electric blind. It also has LED light guides built into the roof turn it amber. The steering wheel is leather-covered and adjustable for height and reach, with controls for the audio system, cruise control and hands-free kit. The front seats provide excellent support and multi-way adjustment. They are available in two versions: electric and heated. The driving comfort is further improved by the automatic headlights, automatic wipers and an electrochrome interior door mirror. The cabin includes a host of storage compartments and the large glovebox is lit and chilled. The front and rear central armrests feature two ergonomic beaker-holders and a compartment equipped with a 12V socket, a USB port and auxiliary audio jack.
The Citroën C4 AIRCROSS is all about technological innovation, and includes a top-level hi-fi system worthy of a saloon. It delivers total power of 710 watts and comprises of eight loudspeakers placed around the cabin, a 25-centimetre woofer with a dual voicecoil, and a20-litre cabinet installed on the left-hand side of the boot. There is also included a high-performance GPS navigation system with a 7-inch touch screen. For even more safety the navigation system is associated with a color rearview camera and rear parking sensors. The all-new Citroën C4 AIRCROSS also includes a Bluetooth hands-free telephone function.
The SUV offers as well a high level of passive safety, thank to its extremely stiff body structure. A high level of passive safety keeps the survival cell intact and sets high standards in vibration comfort for all the occupants. Moreover, the Citroën C4 AIRCROSS is equipped with a safety system on the brake pedal, which prevents protrusion of the brake pedal in the event of high-speed impact. The vehicle includes as well seven airbags as standard.
Source: Citroen