Citroen's DS Family Gets The 5LS in China
Citroen's DS line grows. Today, the 5LS joins the family – it's a luxurious executive saloon that's going to go on sale in March 2014 exclusively in China.
Although it has been now officially, "unveiled" we don't really know much about it. It's big, that's for sure. Boasting a length of 4.70 m, the 5LS is supposed to have the longest wheelbase in its class (2.71 m). It's wide too. At 1.84 m distance between the fenders, there's plenty of space for a 1955 throwback front grille. It's not all about the history though. Stylish boomerang-shaped Daytime Running Lights and 3D rear LED lights reassuringly state that the 5LS is firmly planted in the present and looking straight ahead.
Most of the remaining information concerns the insides – metal, wood and leather all fuse together to create an environment of utmost luxury and class. Apparently, "watch strap" seat design is the signature move of the DS line. For the ideal comfort of the rear passengers, the backrest is at an angle of exactly 29 degrees. Things get even more bourgeoisie when we consider the air ioniser inside the cabin.
Chauffeurs (why would anyone buy the 5LS and drive it himself?) should rejoice as well. The DS features a clever stereo system, massaging front seats, keyless entry and start, blind spot monitoring, front and back parking sensors and a reversing camera.
The oily bits are the ones that has suffered the most glossing over. All we know is that, for the time being, there will be two engines available; the THP 160 and the THP 200. Both engines feature sequential direct injection, a high-pressure pump, and Twin Scroll turbo compressors. A 6-speed automatic gearbox will channel their power to the wheels.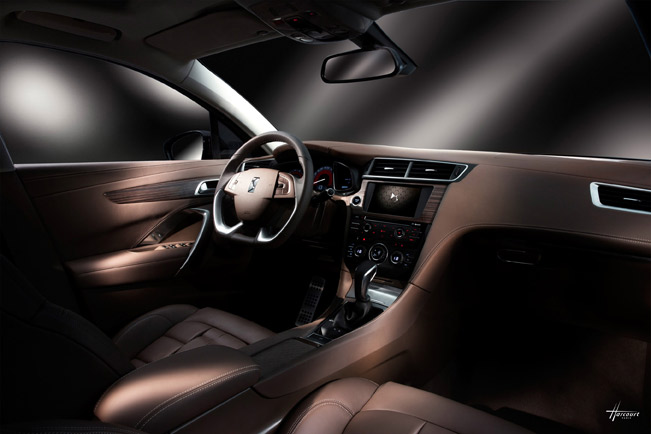 Source: Citroen