2012 Citroen DS4 Racing Concept
Since the launch of the DS4 model line-up, Citroen has achieved great success by selling over 180 000 examples of it worldwide. At the Geneva Motor Show which will take place in the beginning of March, Citroen will reveal for the first time a new model of the DS4, namely – the 2012 DS4 Racing Concept.
The concept vehicle features "100% Racing" attributes. For instance, the chassis is 35 mm lower than the regular model and track is 55 mm wider at the front and 75 mm wider at the back. Additional elements are the air diffuser, a front bumper panel, a lower-body belt line and wing extensions, which give the car even sportier look.
Citroen Racing has tweaked the 1.6-litre turbo engine to develop 256 bhp (188 kW), or 160 bhp per litre – a record for a series-production car. This exciting performance comes hand in hand with controlled CO2 emissions of 155 g/km. Furthermore, other modifications and redevelopments have been made on the running gear with the utmost precision.
The concept car is equipped with four-pot, fixed calliper brakes at the front, with special discs widened to 380 mm in diameter, and shod with larger, 19-inch wheels (235/40). Another unique feature of the Citroen DS4 Racing Concept is its matte grey, textured-effect paint, which by the way is the first of the sort in the automotive sector.
What is so specific about it is that the grain of the paint catches the light differently and further enhances the body styling, while the color stays modern and robust – in other words: ideally suited to a sports vehicle. At last, to refine the exterior outlook, the concept car gets a two-tone roof and specially-designed, two-tone wheel rims.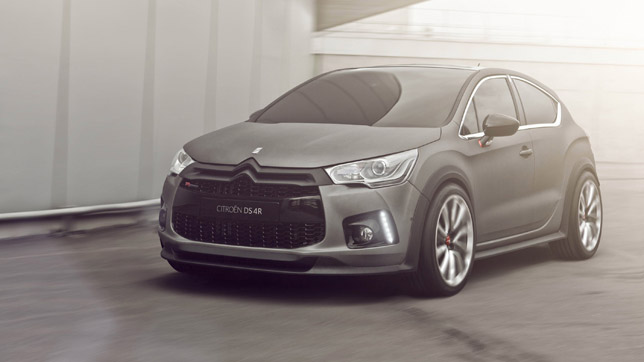 Source: Citroen