2012 Citroen DS5 - Price £22 400
2012 Citroen DS5 is now available on the UK market. It is priced from £22 400 for the entry level Dsign e-HDi 110 Airdream EGS6 and the top-of-range model DSport Hybrid4 200 Airdream EGS6 costs £32 200.
The car is inspired by the striking C-SportLounge concept car and completes the current DS line. An instantly recognisable range, the DS line appeals to both the emotional and rational decision-making process of today's car buyer. All three models in the premium DS line offer creative design, outstanding quality and desirable technology.
2012 DS5 measures 4.53m length, 1.85m width and 1.51m height, the five-door layout offers five full-size premium seats and a generous boot volume of up to 465-litres VDA.
There are a lot of technologies in the 2012 DS5 including:
Keyless Access & Start, which uses Radio Frequency Identification (RFI) technology to allow drivers to unlock and start/stop DS5 whilst keeping the electronic key separate.
A colour head-up display, which projects essential driving information (speed, speed limiter and cruise control settings and navigation settings) in the driver's direct line of sight. On Hybrid4 models, the display changes from white to blue during ZEV mode.
A reversing camera that sends a colour image of the car's rear view to the navigation display screen.
A driver's seat with electric lumbar adjustment and massage function.
Dual-zone automatic air conditioning with three air flow levels (soft, medium, intense).
An advanced programmable speed limiter and cruise control system.
A new Lane Departure Warning System, which uses an integrated camera to recognise the lines on the road and warns drivers of involuntary lane departure.
Smart beams that process images from the built in camera to trigger automatic activation and de-activation of the high beam lamps according to lighting and surrounding traffic conditions.
New DS5 boasts a comprehensive range of audio and telematics equipment, including USB and Bluetooth® connectivity. Citroën's latest-generation in-car eMyWay navigation comes as standard on level 2 DStyle models. The integrated system features a high-resolution 7-inch colour widescreen, internal memory for map data, speed limit sign reminders and Bluetooth® hands-free and audio streaming for listening to music files stored on mobile phones. DS5's audio system features ARKAMYS acoustic processing for authentic sound playback. An optional premium 10-speaker DENON Hi-Fi has also been developed for an even richer soundscape within the cabin.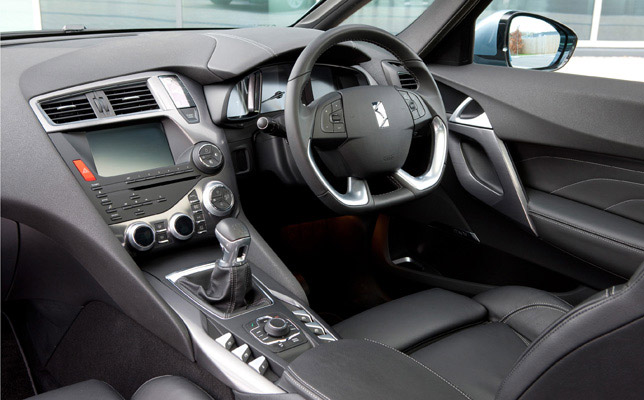 DS5 is available from launch with a choice of four refined and efficient Euro V engines - THP 200, e-HDi 110, HDi 160 and the new 200BHP diesel electric Hybrid4.
The e-HDi 110 Airdream features new-generation Stop & Start micro-hybrid technology that reduces CO2 emissions by up to 15% when driving in congested urban areas. The turbocharged, direct injection petrol engine, co-developed with BMW, delivers enjoyable power and performance.
All powerplants are mated to either manual, automatic or EGS 6-speed gearboxes.
HYBRID4
DS5 is the first Citroen fitted with Hybrid4 technology. What is more, it is the first hybrid using diesel engine as main power unit, instead of a petrol one.
Hybrid4 combines several technologies including:
A refined 2.0HDi 160 diesel engine delivering 163bhp
A permanent-magnet synchronous 27kW (37bhp) electric motor fitted on the rear axle
A Power Train Management Unit, automatically managing the operating modes of the diesel engine and electric motor to achieve the best possible fuel economy
A Stop & Start system with a second-generation reversible alternator
An automated manual 6-speed gearbox with optimised shifts
Four different operating modes:
AUTO - Activated by default on start up, the Auto mode optimises fuel consumption by automatically switching between the diesel engine and the electric motor. ZEV - For speeds up to 60km/h (37mph), the Zero Emissions Vehicle mode enables the car to be driven using the electric motor only. SPORT - This mode uses the electric motor in tandem with the diesel engine to provide extra power when the driver requires more responsive acceleration. 4WD - On rough ground or in low-grip conditions, the 4WD mode increases traction delivering power through all four wheels. The front wheels are powered by the diesel engine, the rear wheels by the electric motor.
New Citroen DS5 achieves a maximum 5-star rating in the latest Euro NCAP tests, including an impressive 97% score in the Safety Assist category.
ABS with Electronic Brakeforce Distribution (EBD) & Emergency Braking Assistance (EBA)
Electronic Stability Programme (ESP) with traction control and hill start assist
Driver's, front passenger's, front lateral as well as front and rear curtain airbags
A cornering light function that increases visibility by up to 75° when turning
Citroën's award-winning eTouch Emergency & Assistance system, which automatically or manually makes geo-localised emergency or assistance calls using a built-in SIM card, for rapid intervention in the event of an accident or if the car is immobilised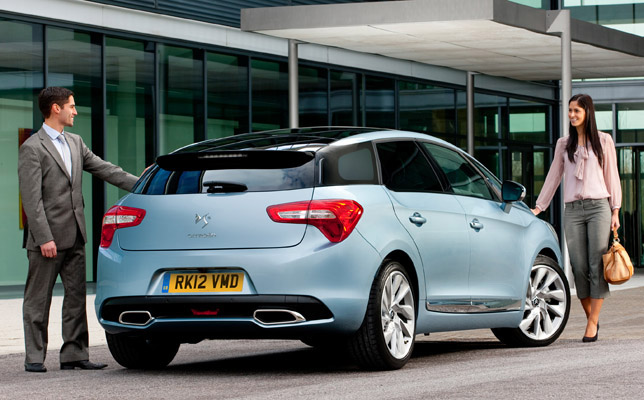 Trim levels:
New Citroen DS5 will carry one of three trim-level signatures - DSign, DStyle and DSport. DSIGN:
Driver's, front passenger's, front lateral, front and rear curtain airbags
Electrically foldable door mirrors with integrated kerb side LED
Front fog lights with cornering function
Daytime running LEDs
Keyless access and start
Cruise control with speed limiter and memory settings
Front and rear electric windows with 'one-touch' operation and anti-pinch
Automatic digital air conditioning with dual-zone temperature setting
Automatic rain-sensitive windscreen wipers, automatic illumination of headlamps and electrochrome rear view mirror
Automatic electric parking brake
Connecting Box - Bluetooth system® with USB socket
DSTYLE adds:
Part Mistral 'Claudia' leather, part 'Dinamica' cloth upholstery
Cockpit roof with three electric sunblinds and aviation style toggle switches
Citroën eTouch Emergency & Assistance system
Analogue clock on dashboard
eMyWay - colour satellite navigation with live traffic information and European mapping
Rear parking sensors
Reversing camera
DSPORT adds:
Mistral 'Claudia' leather upholstery
Front electric and heated sport seats
Driver's seat with electric lumbar adjustment, massage function and memory settings
Xenon Dual-Function Directional headlamps with washer jets
Front parking sensors
Colour head-up display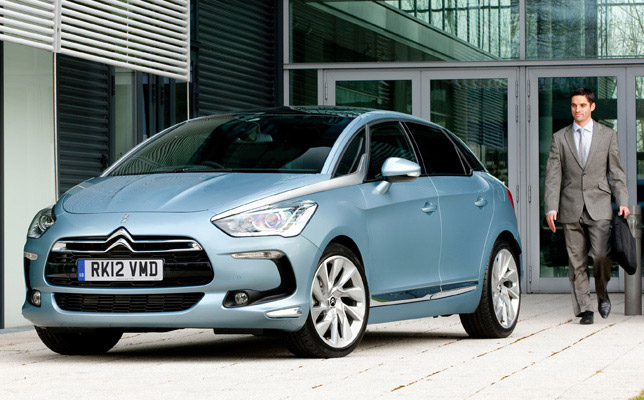 ENGINE
CO2 (g/km)
MRR OTR PRICE
DSign
e-HDi 110 Airdream EGS6
114
£22,400
HDi 160 6-speed manual
129
£23,400
HDi 160 6-speed automatic
154
£24,900
Hybrid4 200 Airdream EGS6
99
£27,600
DStyle
e-HDi 110 Airdream EGS6
114
£24,900
HDi 160 6-speed manual
133
£25,900
HDi 160 6-speed automatic
158
£27,400
Hybrid4 200 Airdream EGS6
107
£30,100
THP 200 6-speed manual
155
£25,900
DSport
HDi 160 6-speed manual
133
£28,000
HDi 160 6-speed automatic
158
£29,500
Hybrid4 200 Airdream EGS6
107
£32,200
THP 200 6-speed manual
155
£28,00
Source: Citroen