2012 Citroen DS5 goes on sale
The award winning 2012 Citroën DS5 has just gone on sale in all UK dealerships. Its price ranges from £22 400 to £32 200 for the exceptional DSport Hybrid4 variant.
The new DS5 has all the qualities that a customer would like their car to have. It is bold, and has a modern styling with a luxurious aviation-inspired interior featuring. DS5's a cockpit roof and pilot-style cabin makes it even more futuristic than ever before.
Moreover, it is a mixture of compactness and agility, spaciousness and versatility. The new 2012 Citroen DS5 has to offer five doors, five full-size seats and up to 465-litres of boot space. In addition, the brand's designers have included in this model keyless access & start, smart beams, a colour head-up display and a new Lane Departure Warning System (LDWS).
Furthermore, Citroen DS5 will be available with a choice of four refined and efficient Euro V engines. Namely, they are THP 200, e-HDi 110, HDi 160 and the new 200hp diesel electric Hybrid4.
A highlight here is that this is the first production Citroen which is equipped with diesel hybrid technology, and carries the name 2012 Citroen DS5 Hybrid4. They will deliver outstanding performance, low CO2 emissions from just 99g/km and savings of up to 35% during urban driving. Undoubtedly, this will make any customer more than satisfied.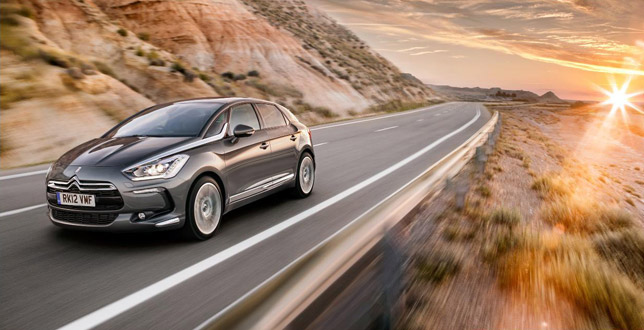 Range and Pricing Summary:
ENGINE
CO2 (g/km)
MRR OTR PRICE
DSign
e-HDi 110 Airdream EGS6
114
£22,400
HDi 160 6-speed manual
129
£23,400
HDi 160 6-speed automatic
154
£24,900
Hybrid4 200 Airdream EGS6
99
£27,600
DStyle
e-HDi 110 Airdream EGS6
114
£24,900
HDi 160 6-speed manual
133
£25,900
HDi 160 6-speed automatic
158
£27,400
Hybrid4 200 Airdream EGS6
107
£30,100
THP 200 6-speed manual
155
£25,900
DSport
HDi 160 6-speed manual
133
£28,000
HDi 160 6-speed automatic
158
£29,500
Hybrid4 200 Airdream EGS6
107
£32,200
THP 200 6-speed manual
155
£28,000
Source: Citroen