Clint Bowyer Toyota Prius - lower than a Sprint Cup car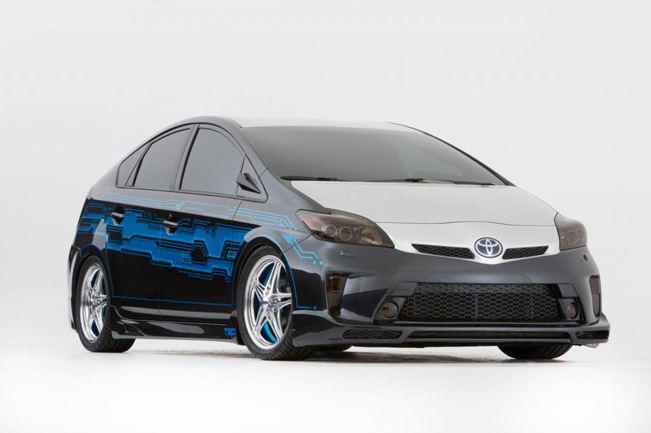 Toyota will reveal a custom Clint Bowyer Prius at the 2012 SEMA. Bowyer, whose Prius was modified under his direction by RKM Performance Center in Mooresville, N.C., believes that taking the high technology for which the Prius is already famous to extremes will pave the way to victory.
"When you think of a hot rod, you don't think of a Prius," Bowyer said. "A young, sophisticated global thinker meets a connected, socially conscious traveler - that's the theme of the Tekked-Out Prius."
It comes with a nice hi-tech version featuring a 17" custom touch screen with built-in Windows 7 computer, two ASUS 12" tablets, and a side-view camera system that replaces the factory mirrors. A staggering 45 feet of fiber optic lighting and a thumping 16-speaker JBL audio system with two amplifiers and six crossovers brighten the mood inside of the sinister-looking black-on-black Prius.
The special edition Prius also has a 16-speaker audio system from JBL with six crossovers and two amplifiers, while the interior has received custom leather and suede upholstery, electric blue stitching accents and imported German carpet.
The final vehicle builds will be unveiled during a press conference at the Toyota display at the Specialty Equipment Market Association (SEMA) show in Las Vegas on Oct. 30 at 11 a.m. local time. Fans will be able to tune in live to watch the entire press conference on the Toyota Racing Facebook page or LiveStream.com/Toyota and see the winner announced in real time.
Source: Toyota