Cobra VW Touran, Sharan and Caddy
Cobra now offers an exterior package for the latest Volkswagen Touran.
It includes a high-gloss stainless-steel front brush guard with a tube diameter of 48mm and a stainless-steel bumper grille. The Touran also comes with high-gloss side guards with integrated step and a tube diameter of 60 mm, and a version with a brushed surface finish without the integrated step. At the rear, there is a bumper guard with a choice of high-gloss or brushed finishes.
Cobra Touran stands on new alloy wheels with dimension 8Jx18".
The tuning company also offers some upgrades for the latest Sharan.
The minivan comes with a stainless-steel front brush guard and bumper grille. At the sides, there are guards with integrated step.
The five-spoke 17" wheels are available as one-piece and multi-piece designs. The width is 8J.
VW Caddy also benefits from Cobra Technology and Lifestyle. The front received brush guard and bumper grille, both made from high-gloss stainless steel. Side guards with and without integrated step are also available.
These accessories are complemented with striking Cobra Grenada alloy wheels in size 7Jx15 for retaining the stock tires or in size 8Jx17 for mounting sporty low-profile tires.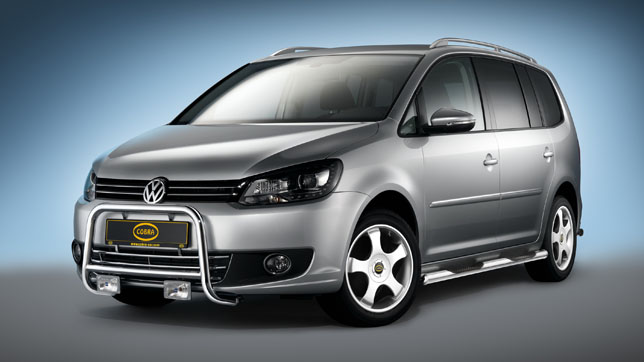 Source: Cobra