Cosworth Reveals FA20 Power Package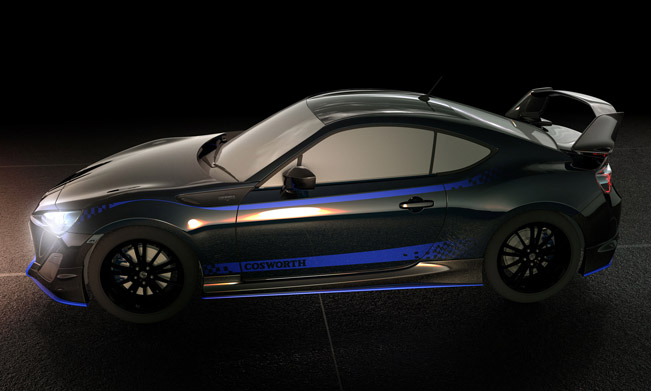 Cosworth FA20 Power Package is here. Through its introduction the company deliberately moves on from individual component supply towards fully validated system packages. The current upgrade is suitable on for Scion FR-S, Subaru BRZ and Toyota GT86. Cosworth's Power Packages will offer motorsport enthusiasts the ease and reliability of power upgrades. The development of FA20 is inspired by Formula One and sports car racing, and the result is a peak performance of up to 380 horsepower (280 kW). There are several stages of the upgrade, each of which builds upon and uses components in the previous Stage.
Stage 1 Power Package offers a power increase of up to 230 hp (170 kW). It features Cosworth free flow sports exhaust, a "Power by Cosworth" calibration kit, an exclusive vehicle badge and a uniquely numbered authentication plaque with the name of the tuning company, performance filtration solution and low temperature thermostat.
All of the components mentioned work together as a solution, rather than a collection of individual parts. They maximize peak performance and reliability. For example, tuning company's free flow sports exhaust features two 4" diagonally cut, branded, double wall tips and a stylish "Y" shaped back muffler/silencer.
In combination with the other components, this stainless steel exhaust increases the power output to 220 hp (162 kW). By adding the optional combined overpipe front pipe, which has a spherical resonator, the new calibration power output is raised to 225 hp (165 kW). At last, the black manifold header has equal length piping and CNC machined exhaust flanges, not only helps to significantly reduce under hood/bonnet temperatures, but also boosts the output up to 230 hp (170 kW).
Source: Cosworth