Created with Class, Designed as an Icon: Special Edition Vorsteiner GTRS4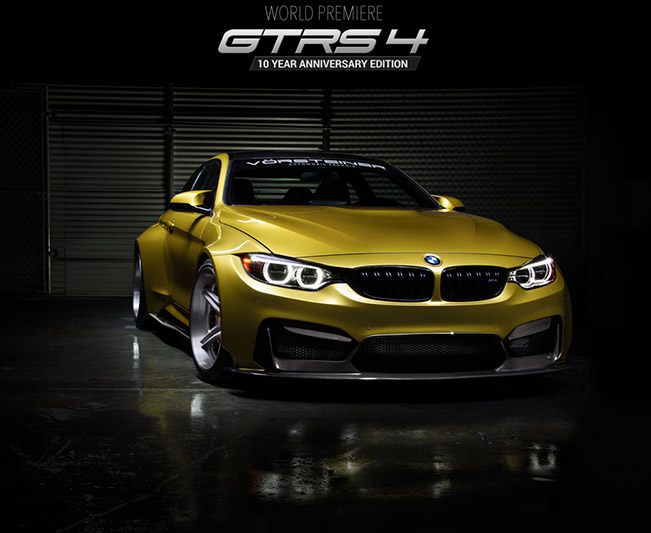 In order to celebrate its 10 year anniversary, the American tuner car manufacturer Vorsteiner has created a special limited edition vehicle that has the enigmatic name of GTRS4. It becomes obvious from the released pictures, that the car will take the world out of its orbit and will shake it so hard that everything ordinary will drop on the ground. We see a legend! We see an icon! We see perfectness in extraordinary glare!
The upgraded vehicle is based on the 2015 BMW M4 Coupe and will feature carbon fiber body kit. The focus of the Vorsteiner's team of professionals is directed towards crafting an organic design that not only fits the initial body lines of the BMW M4 but also preserve and demonstrate a full capacity of functionality and everyday drivability.
Making sure that every detail is set to its best, the tuner revolutionized their GTS package from last month, providing the coupe with ESS Tuning's E-Tronic engine which will be able to fire up output from around 431 HP (317 kW) to 550 HP (405 kW). The exclusive BMW M4 GTRS4 comes with three-piece 20-inch alloy wheels wrapped around in Pirelli P Nero tires and KW Suspension. There is no information about the performance details yet but the stock BMW M4 Coupe boosts to 62 mph (100 km/h) in just 4.1 seconds with the optional seven-speed M DCT. With the standard six-speed manual gearbox, though, the car accomplishes it in 4.3 seconds.
The Special Edition GTRS4 package will include:
Carbon Fiber Front Bumper with an Integrated Front Splitter Element
Carbon Fiber Wide Front Fender with Ventilation (2 inches wider on each side)
Carbon Fiber Aero Side Blade Elements
Carbon  Fiber Wide rear Fender (3.5 inches wider on each side)
Carbon Fiber Rear Bumpers with an Integrated Rear Diffuser Element
Vorsteiner 90mm Quad Exhaust Tip Finishers ( in Brushed or Black nuance)
Vorsteiner Chrome Trunk Badging
GTRS4 Forged 3-Piece Wheels, 20x10.5 J; 20x13.5J in Gloss Brushed Shadow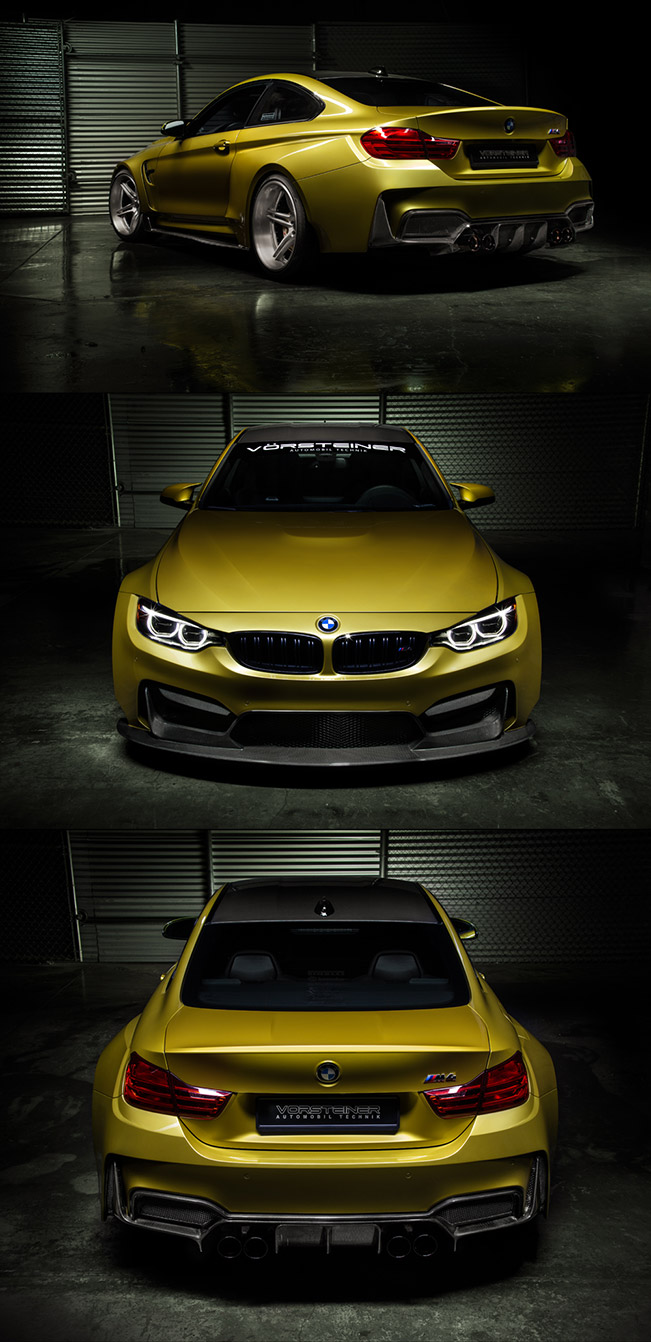 Source: Vorsteiner