Dacia Lodgy Glace
Dacia has introduced  Lodgy Glace - the sports variant of the new family road car which will be launched at the Geneva Motor Show in March 2012. Two Lodgy Glace will will take to on the grid for every race as the first will be driven by Alain Prost and the second by Nicolas Prost and Evens Stievenart.
The Lodgy Glace has been designed specifically for this unique racing series, which is renowned as one of the most challenging in motorsport. The technical regulations of the Trophée Andros are extremely strict, and impose restrictions on all aspects of the vehicle - chassis dimensions, gearbox, tyres, including the materials employed. Everything is done to limit the use of complex and costly technical solutions: instead, this series is all about finding simple, ingenious solutions, a measure which fits perfectly with the Dacia brand. The series also brings the car's reliability to the fore, combined with driver skill.
Custom-prepared by the teams at Tork Engineering - design, production, assembly and Sodemo – engine.
The Lodgy Glace is fully checked by Renault Sport Technologies (RST). Throughout the project, RST has contributed its technical and sporting expertise from the world of motorsport: it acts like a conductor, perfectly coordinating the different technical partners and disciplines - design, engineering, the Dacia brand and the drivers. Check out the full specs, below!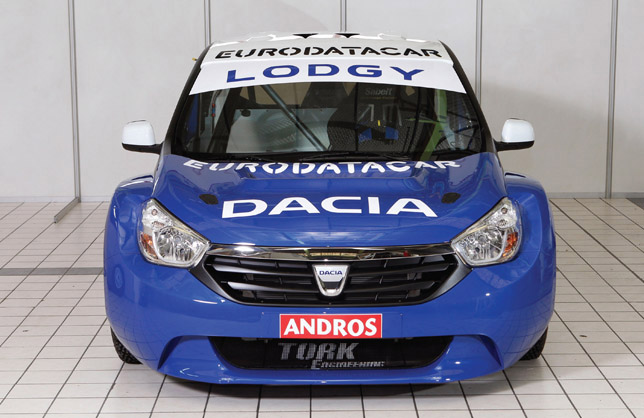 Dacia Lodgy Glace Specs:
CHASSIS Type: tubular steel Suspension: double wishbones; adjustable Öhlins integrated springs/damper units
ENGINE Type: VQ 30 developed from the Renault-Nissan Alliance 24-valve V6 Position: mid-rear Cubic capacity (cc): 2,987 Bore x stroke (mm): 93 x 73.3 Maximum power: 355hp @ 7,500rpm Maximum torque: 360Nm @ 5,500 rpm
TRANSMISSION Type: four-wheel drive Gearbox: SADEV 6-speed sequential Differentials: limited slip front and rear
BRAKES Front: 300mm Ø steel discs Rear: 265mm Ø steel discs Calipers: Beringer 4 pot
WHEELS Rims: 5.5'' x 16'' magnesium Tyres: Continental Ice Racing Contact 3
DIMENSIONS/WEIGHT Length: 4,001mm Width: 1,900mm Front/rear track: 1,690mm Wheelbase: 2,500mm Weight: 950kg Fuel tank: 25 litres
STEERING Type: 4 wheel steering Hydraulic power steering Cam-adjustable rear steering
Source: Dacia