Jay Leno is on the Dark Side Riding Darth Vader's Car [VIDEO]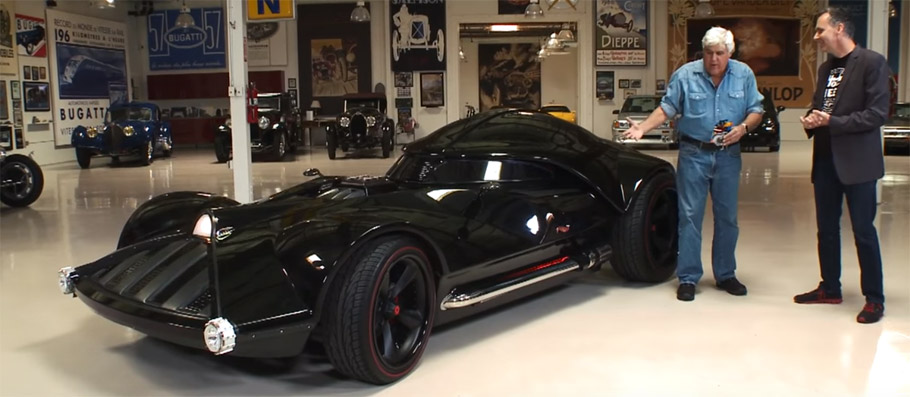 If you are a Star Wars fan, you'd be probably extremely impatient for the premiere of the new series "The Force Awakens", which will happen in a couple of days. So, obviously the world is going crazy about this and we have seen lately some amazing cars (I'm speaking about Dodge's ad campaign). Now, even Jay Leno has joined the clamor by driving the one-off Hot Wheels Darth Vader Car. And the best thing about it is that his experience has been recorded as a Jay Leno's Garage episode. You can watch it below of course.
In this truly unique experience Leno is joined by the designer Bryan Benedict and builder Billy Hammon. I'm not going to tell you what's in the episode and will leave you with the pleasure of watching it.
SEE ALSO: Darth Vader's Viper ACR and Stormtrooper's Challenger and Charger Take Over L.A. [VIDEO] 
What I'll do is to tell you some unbiased facts about this car. First, it is a result of the collaboration between Hot Wheels and Star Wars franchises, thus as a result the ultimate ride for the dark side has been born. In the beginning it was released as miniature, in a 1:64 toy variant, but in the end it became a life-size car.
Powered by an LS3 V8 engine, which generates 526 horsepower (387 kW), this vehicle rides on custom red line tires. The powerful engine drives the rear wheels and also has a backlit, side-exit exhaust system. It also produces the heavy breathing sounds famous for Darth Vader. Back in the summer of 2014, the visitors of Comic-Con even got the chance of seeing the car.
What is more, the "nose" of this unique car is made of carbon fiber resembling Sith Lord's mask. Furthermore, the automobile runs on MHT set of wheels that were specifically made for it. There are also other design elements that make it look really good and alike to Darth Vader. Just take a look at the triple headlights and the split windshield.
Now dive into Jay Leno's experience:
Video and News Source: YouTube