Dodge Ram Long-Hauler Concept Truck
Dodge Ram Long-Hauler Concept Truck will be on display at selected events across the country. The vehicle is based on a Class 5 Ram 5500 Chassis Cab and boasts a number of modifications.
One of the most staggering facts about the vehicle is its fuel tank, which can contain up to 170 gallons of fuel. means fueling up would cost up to around 750 dollars given current gas prices in the U.S.
The dimensions are also unbelievable – 5014 mm (197.4 inches) wheelbase, the overall length is 7315 mm (24 feet), height – 2009 mm (79.1 inches) and the curb weight of the huge truck is 4213 kg (9 300lbs).
Dodge Ram Long-Hauler Concept is powered by a six-cylinder 6.7 liter High Output Cummins Turbo Diesel with 1083Nm (800 lb-ft). The horsepower are not so important and the company didn't release any information about the power. The engine is mated to a 6-speed Aisin AS68RC automatic gearbox. All the pulling power is put on the road through a four-wheel-drive.
The vehicle stands on a Kelderman air suspension and 19.5" Alcoa aluminum wheels.
Among the goodies in the cabin, there are Wi-Fi, a laptop storage area , 2+2 leather seating with a specific, high comfort driver seat. Rear passenger comfort is assured with power-adjustable footrests and a rear center console that includes a refrigerator, cup holders and tray tables.
The Ram Long-Hauler is only a concept and can be seen across the country in the next 8 months.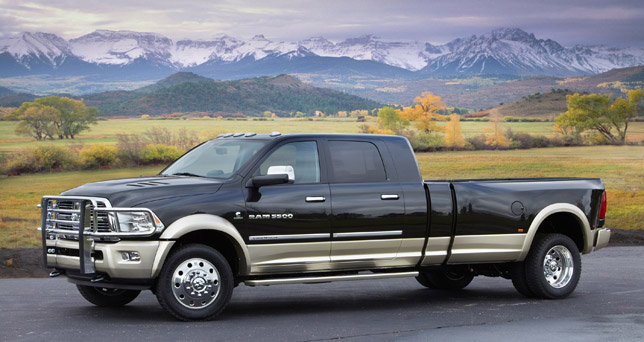 Source: Chrysler